From CommonDreams
This World Food Day, as the U.N. Food and Agricultural Organisation (FAO) celebrates its 75th anniversary, it is sobering to remember the several billions of our fellow human beings who suffer from some form of food insecurity. As the pandemic struck, the U.N.'s World Food Program (WFP), which was just awarded the Nobel Peace Prize, warned that unless nations took swift action, the number of acutely food insecure people is likely to almost double to 265 million, from the 135 million in 2019. The COVID-19 pandemic is an environmental as well as humanmade disaster: an example of what can go wrong in the absence of an internationally coordinated, transparent and scientifically informed response to an unprecedented challenge in a globalized world. Ten months into the pandemic, this week at the at the High-Level Special Event of the U.N. Committee on World Food Security (CFS), we were told that the number of people who are acutely food insecure has indeed increased by 132 million.
Even before COVID-19 struck, in 2019, close to 750 million or 10% of world population was food insecure, according to the SOFI Report 2020. An estimated 2 billion people did not have regular access to safe, nutritious and sufficient food in 2019, a year in which global wealth reached all-time high, along with rising inequality. This is the socioeconomic stage on which the COVID-19 pandemic has played out.
While hunger and food insecurity have always been central global concerns, under COVID-19, these issues have become more pressing in the United States, as hunger and food insecurity have reached unprecedented levels. The pandemic is revealing to the wider public the fault lines of our highly industrialized and vertically integrated agricultural food systems. The pandemic caused a multitude of food systems-wide shocks in the United States, from food insecurity at the individual and family level to outbreaks in food processing and meatpacking plants to disruptions in farm operations and food supply chains. In this scenario, food security has emerged as a key issue and has drawn attention to the vital role of local farmers, food system workers and food systems resilience in any community. This is playing out in three distinct but overlapping communities:
Individuals and families:
Panic buying and empty shelves in grocery stores made news in the first few weeks of the pandemic, but slowly, it became clear that an ever increasing number of people were turning to food banks — neighborhood food-collection and distribution centers — to ensure that they had at least one meal per day; many had to return home empty handed. Pre-pandemic, more than 37 million Americans (11 million of them children) struggled with hunger; that number has now skyrocketed, with more than 54 million Americans (or one in six) of which over 18 million are children, projected toface hunger as the pandemic continues. (For updated data about food insecurity during the pandemic, see FRAC's report below.)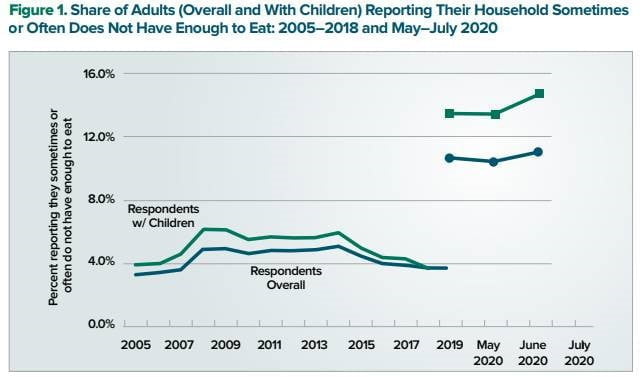 Not Enough to Eat: COVID Deepens America's Hunger Crisis (published in September 2020).  
All this happened against the background of the Trump administration cutting $4.5 billion in 2019 in Supplementary Nutritional Assistance Program (SNAP) benefits, (as part of its long-term plan to reduce SNAP enrollment), even though SNAP is considered an extremely efficient means to address food security — more effective than food banks. The Trump administration's flagship pandemic hunger relief effort — the mismanaged Farmers to Families Food Box Program — is not only considered inefficient, but also seen as a reminder of Depression era programs that shamed people for receiving aid.
Food system workers:
Never Miss a Beat.
Get our best delivered to your inbox.
Food system workers have been especially vulnerable to COVID-19. Many belong to black, indigenous and people of color (BIPOC) communities who have suffered disproportionately high incidences of hospitalization and death from COVID-19. As officials warned about food supply shortages, meatpacking facilities became major centers of COVID-19 outbreaks, focusing attention on the workers at these facilities, a majority of whom are immigrants and refugees. As essential workers (and as immigrants with limited access to SNAP), they had little choice but to go back to these facilities and work under unfair and unsafe conditions. COVID-19 revealed how our current industrialized food supply systems are built on the backs of farm and food system workers, who are often underpaid and work in polluted, unsafe environments.
Food producers:
Food producers, who were already struggling to make ends meet prior to the crisis, also found themselves vulnerable. For more than six years, they have been managing low incomes, rising costs, increasing debt and bankruptcy, volatile export markets (exacerbated by President Trump's tariff fights) and a series of extreme weather events tied to climate change. These food producers are now facing new threats to production and markets sparked by COVID-19. The closing of schools and therefore school meal programs (which had accounted for 7.6% of total fluid milk sales, by one producer's 2017 estimate) and restaurants (major cheese purchasers) eliminated two important markets for dairy. Dumping of food due to excess supply has been a major fallout of COVID-19, even as food was in short supply, and people were going hungry.
COVID-19 shut down the half of the U.S. food system that depends on food service, creating several choke points in the distribution line and particular problems for foods (e.g., seafood) that are more often eaten out. At the same time, the distribution system struggled to redirect food that was newly in higher demand, like ingredients for home-based-baking and cooking.
Yet, since the U.S. food supply system is vertically integrated from field to fork, there are few other options available for producers, workers or consumers to meet their needs. This pandemic demonstrated the need to transform our food system to be ecologically and economically resilient, including through establishing effective supply management programs and building diverse, local and regional food systems, and through providing adequate safety nets to help meet consumption needs.
New forms of solidarity:
The pandemic also saw farmers become part of solidarity economy initiatives; consumers turn to alternative food sources (such as subscribing to Community Supported Agriculture programs and farmers markets), generating new appreciation of sustainably produced local food, short-value chains and regional food supply systems; and communities pool resources to support food collection and distribution centers. These locally evolved, collaborative acts of solidarity, which view the vulnerable as participants in their survival rather than passive consumers of assistance, provide a model for building community and food system resilience.
In sum, the pandemic has exposed the fragility of the current industrialized food supply system, which is nested in an unequal, racialized and gendered socio-economic system experiencing the increasing prevalence of unemployment and food insecurity. In the wake of the pandemic, food security has emerged as a key issue. It has also demonstrated the vital role of local farmers in all communities be it urban or rural and the need to recognize food system workers as essential workers. It has shown the need to ensure that farmers and workers have safe working conditions and that community members have access to local food systems providing them with diverse and sustainably produced, healthy and safe food. World Food Day is an important moment to reflect on the need to build a resilient food system in the United States, as well. This will involve putting all these elements together to ensure that addressing food security and nutrition in a sustainable manner remain at the center of any transformation.
Additional resources:
For a global analysis providing insights on addressing the food and nutrition security implications of the COVID-19 pandemic, read:
The Issues Paper by the High Level Panel of Experts of the UN CFS.
Voices from the Ground: From Covid-19 to Radical Transformation of Our Food Systems by the Civil Society Mechanism at the U.N. CFS.
Towards Building Resilient Food Systems in the United States, see: The need for a food and agriculture platform in the Green New Deal