From Jacobin
When Warren B. Kanders resigned from the Whitney Museum of American Art's board of trustees last year, the disgraced multimillionaire penned a sour letter lamenting a demise in decency. His involvement with the weapons manufacturer Safariland, he claimed, had little to do with the museum's mission or his position as vice chairman: "The politicized and oftentimes toxic environment in which we find ourselves across all spheres of public discourse, including the art community, puts the work of this board in great jeopardy."
Artists and workers felt otherwise. Whitney staff members signed an open letter calling for Kanders's resignation after Hyperallergic first reported on Kanders's connections to Safariland. Withdrawals from the Whitney Biennial exhibition accompanied weekly protests in the museum's lobby organized by the artist-activist group Decolonize This Place (DTP). Many in the media wondered how someone who profits from tear gas used by the US Border Patrol could rank so highly at such a prestigious cultural institution.
One year later, New York's art museums are regularly in the news for similar controversies. Waves of protests at the Museum of Modern Art (MoMA) have called out trustees for their investments in private prisons, ICE detention centers, and private military contractor Constellis (formerly Blackwater). Workers at the Brooklyn Museum recently signed an open letter detailing mistreatment from executive leadership. And at the Solomon R. Guggenheim Museum, workers greeted guests with pro-union video messages during its reopening, and a group of anonymous employees called for the removal of three top executives. Activist groups Artists for Workers and The Illuminator projected messages of solidarity with the exploited workers of Guggenheim Abu Dhabi on the Manhattan museum's facade.
This is not unique to New York. Major directors, board members, and curators are resigning from art museums across the country following worker and public outrage over harassment charges, labor exploitation, and racism. Nothing is guaranteed to a nonunionized worker, and a debate is growing around the colonial history of Western museum acquisitions from the Global South and black and indigenous communities — which hit a boiling point with the resurgence of Black Lives Matter protests.
This is a dual crisis of labor and ownership. Art and education workers and artists are increasingly distrustful of museum leadership. And for good reason: trustees and directors are severely disconnected from museum staff and the general public. Unions are therefore growing in popularity, and laid-off workers are pushing back.
Many workers are hesitant to speak on the record for fear it will diminish their chances at the few remaining jobs in the industry. Museums are reckoning with their complicity in racism and marginalization, with exhibitions getting canceled or postponed. This cultural shift and abusive labor conditions are producing a workforce in revolt.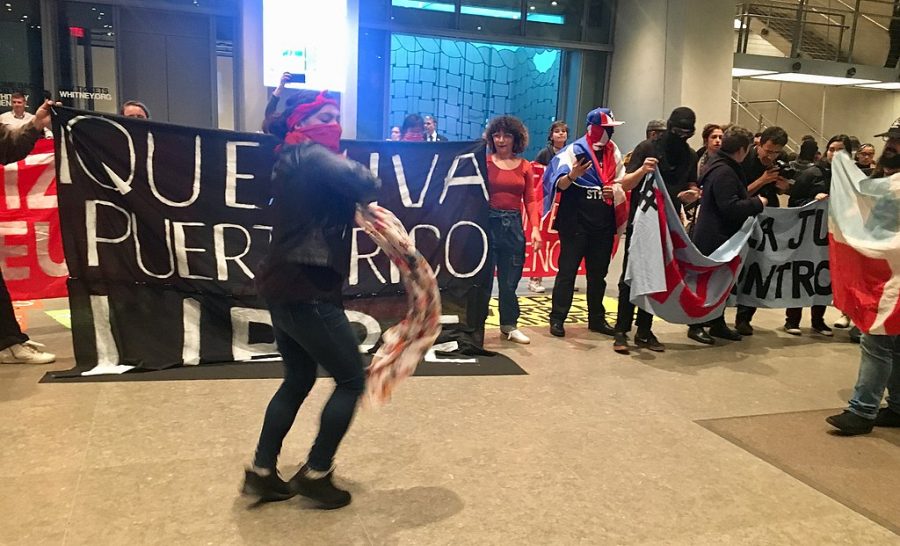 Labor Power
The crisis for museum workers has been a great equalizer. The Philadelphia Museum of Art Union's recent victory was crucial, because it was the first time American museum staff won a wall-to-wall union. In their case, a salary transparency spreadsheet sparked discussions around worker compensation and management power. Around the same time, two former PMA executives were exposed for alleged physical abuse and sexual harassment of employees, respectively, with the latter forced out of the Erie Art Museum after news broke.
Outside the PMA, most museum unions are not "wall-to-wall." As with Hollywood film shoots, workers are usually divided into craft unions by department. This is a common management technique to decentralize labor and personalize employee interests. For example, security guards at the Milwaukee Art Museum have long been represented by the International Association of Machinists and Aerospace Workers (IAMAW), but the remaining staff's attempts to unionize across departments with IAMAW have faced backlash from management.
Unlike the film industry, museum labor cannot be moved elsewhere. This is why museums are fertile grounds for organizing front-of-house staff. These workers operate in the intermediary space between visitors and executives, with wages remaining stagnant despite their social value — a phenomenon Decolonize This Place calls the "cultural discount."
"Prestige attracts donor trustees, because it's a way for them to launder their wealth and be associated with the museums," said Andrew Ross, a New York University professor and DTP organizer. "By that same token, workers at museums that have high cultural prestige are often asked, if not explicitly then informally, to consider it a privilege to work at these places, so they can't expect too much."
American museums rely on their cultural status to attract employees and keep wages low. But for the ultrarich, they function as vast "art-washing" schemes to obscure their wealth.
Some museums are publicly funded, some private, and some both. In all three cases, any well-connected financier can contribute their private art collection with 501(c)(3) tax designation and donate their way into a seat on a board of trustees. In some instances, wealthy collectors create their own foundations that technically qualify as nonprofit organizations. Suddenly, their tax burden decreases significantly.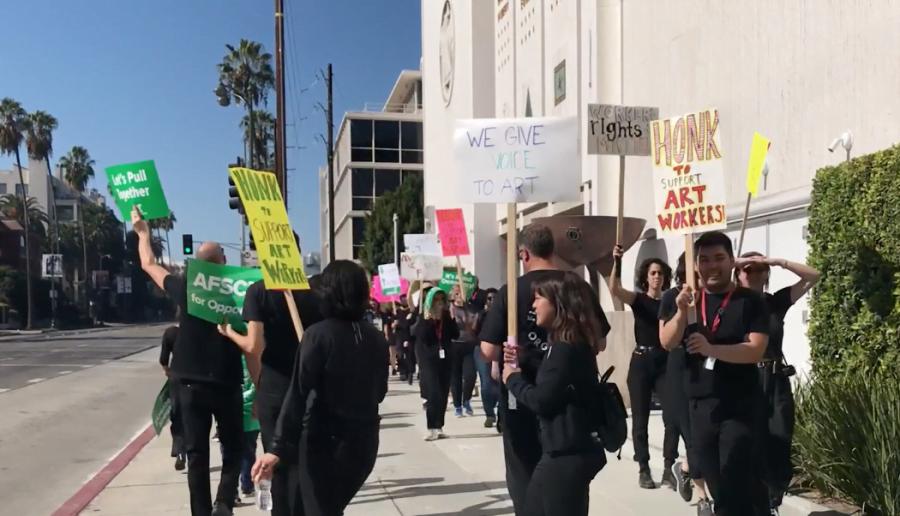 One of the largest private museums in Los Angeles, the Marciano Art Foundation, made headlines last year after seventy staff members attempted to unionize with AFSCME, and management subsequently laid off all of them. The museum closed for good just days later. Spencer Longo, an artist and organizer with the MAF Union, said that the Marciano brothers cultivated this charitable facade to mirror public institutions, achieving 501(c)(3) status but operating without any board or worker benefits.
"Anyone can essentially create a foundation that operates on a tax-exempt basis," Longo said.
You can contribute your own assets and functionally have them accrue in value while paying no taxes. This is specific to an art institution. By curating big shows of works that you own, you can make them increase in value once everything is out in the public and critics write about it. Suddenly these assets, which you didn't have to spend any extra money putting into the show, have accrued in value even though you paid no extra taxes on them.
Visitor service positions like Longo's were among the first to go in the early days of pandemic closings. Many of them were freelance and did not count as full-time museum employment. This is ironic, because these workers are responsible for connecting the public with the institution. Their position as a sort of cultural ambassador stands in stark opposition to trustees and directors, who rarely face the public without prearranged press statements.
Without union representation, workers find alternative ways to make demands. In July, more than seventy former workers from the Museum of Contemporary Art Detroit (MOCAD) organized outside the institution for the removal of former director Elysia Borowy-Reeder. Under the name MOCAD Resistance, they detailed ongoing tensions over racism — namely the resignation of three black curators in the last year — as well as manipulative supervision from Borowy-Reeder, like appointing children of wealthy donors to leadership positions in competitive youth programs.
In a letter of complaint, former youth program producer Erin Moran Martinez addressed class disparities between MOCAD leadership and young people from Detroit's local communities who participated in the programs:
Elysia is a highly manipulative director, and that manipulation is rooted in the preservation of status quo power politics. Her main concern is optics and attendance numbers, primarily for the sake of donors, funders, and wealthy collectors. . . . It was a very painful situation because many of the youth clearly recognized that they were being exploited to raise tens of thousands of dollars, not just for their program, but for the museum at large, all the while their voices were being ignored or actively silenced.
Even when employees are unionized, boards might still enrich management at the expense of other workers. At the San Francisco Museum of Modern Art in September, union employees responded to salary cuts by exposing the board's gratuitous home loans to director Neal Benezra and senior curator Gary Garrels. Wages for floor staff have rarely increased despite skyrocketing rents in the Bay Area, meaning that Benezra and Garrels — the latter of which resigned in July after making public comments about "reverse discrimination" — both benefited from a real estate boom that endangered their own staff.
In some cases, leadership has even used the pandemic to gloss over workplace conflicts. At the Akron Art Museum in Ohio, former director Mark Masuoka resigned after revelations that he retaliated against dissenting workers through staff cuts in April. That same month, at the Frye Art Museum in Seattle, layoffs allegedly targeted members of the Art Workers Union's bargaining committee. A midyear survey by the American Alliance of Museums revealed that about one-third of all US museums might not survive through the end of 2020. Workers will feel this hardest, while investors merely realign their portfolios for the next venture.
People Over Prestige
What does the future look like for museums with discredited leadership and damaged reputations? With staff members facing near-constant layoffs and contract terminations, it seems pretty grim. But artists and workers realize that prestige alone does not suffice, that these institutions need to provide better paying jobs across all departments and end toxic executive culture.
Workplace reform can help workers reclaim museums as public goods. To do this, we need more oversight not just around diversity initiatives but the tax evasion happening in plain sight. And we also need to rethink the predatory model that governs the art market right now — without which some museums are simply unsustainable, as shown in the closing of the MAF.
"These institutions have a kind of philanthropic veneer to them, with all these celebrities showing up to private events and gaining social cachet," Longo said. "Then they open up their shows to the broader community, which comes off as a public good. But then you get into the details and realize they are not paying taxes to improve the roads of the cities where they jack up rent prices by simply existing. That makes everything worse from the long-term labor perspective due to the model they function on: Paying very low wages to people who need undergraduate degrees to work there."
With jobs dwindling, organizing will continue to take many forms, and art workers will continue connecting museum corruption to broader issues like gentrification. In the meantime, management responses will continue coming across as patronizing, with the underlying assumption understood by everyone: that nothing will fundamentally change.
"It's time to think about the power of refusal, and what that can really do for us," said Nitasha Dhillon, an artist and DTP organizer. "I think if we say no to the current system, then the options are plenty."