This is how the Japanese government almost literally sweeps the problem of nuclear contamination under the rug. Note how the standard for safety has been relaxed to allow this to take place.
Original article appears below the translation.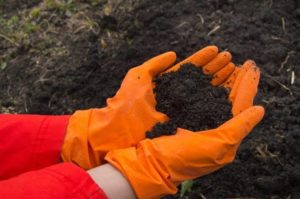 While the Kishida administration is pushing for a "return to nuclear power," the current situation in Fukushima is still a mountain of problems, with some 30,000 people still forced to live as evacuees. The disposal of contaminated soil from the accident at the nuclear power plant is also causing a stir.
The amount of "decontaminated soil" collected in intermediate storage facilities as part of the decontamination work in Fukushima Prefecture amounts to approximately 13.36 million cubic meters (the equivalent of 11 Tokyo Domes), and it has been determined by law that the final disposal of this soil must take place outside of Fukushima Prefecture by 2045. The Ministry of the Environment plans to reuse the soil for public works projects to reduce the amount of soil to be disposed of, and is planning to conduct demonstration tests at three locations in the Tokyo metropolitan area. At the Shinjuku Imperial Garden in Tokyo, 10 tons of decontaminated soil was brought in to create a flower bed. The soil will be covered with another layer of soil to prevent exposure.
 The standard for recycling metals and other materials from decommissioned nuclear power plants is 100 becquerels/kilogram or less, but the standard has been relaxed to 8,000 becquerels/kilogram for soil contaminated by the nuclear accident. The residents of the area, feeling a sense of crisis, are strongly opposed to the project. Critic Gen Hirai, the chairman of the "Association Against Bringing Radioactively Contaminated Soil into the Shinjuku Imperial Gardens," spoke about the situation.
The Ministry of the Environment has announced that the soil will have a half-life of 30 years or less. The Ministry of the Environment only talks about cesium, which has a short half-life of 30 years, but when we ask if other radioactive materials, such as plutonium, which is highly toxic, are contained in the soil, the Ministry officials give us no answers.
Following the demonstration test, decontaminated soil will be scattered all over the country.
The people of Fukushima have been anxious, and they are trying to take advantage of people's desire to 'share the pain' by making the whole country accept the diluted poison," he said. That, too, seems to me to be a groundwork for the construction of new nuclear power plants."
*The Weekly Asahi,
January 27, 2023