From Jacobin
Neoliberalism and Postmodern Conservatism 
Trumpism was both a departure from and a continuation of the neoliberal status quo. On a rhetoric level, Trump broke with the traditional neoliberal outlook by asserting a nationalist project rather than trying to use US power to advance an international legal order that insulates capital from democratic pressures. His protectionist and anti-immigrant policies were often resisted by more conventional right-wingers, many of whom evolved into passionate "Never Trumpers."
But in practice, Trump did nothing to weaken the aggressive antidemocratic and inegalitarian policies of neoliberal governance. These policies not only left millions in precarity, but alienated them from the allegedly liberal-democratic nation state that was supposed to advance their interests but increasingly seemed beholden to the powers of global capital and elite groups. This was an extremely dangerous development: If the demos could no longer count on the institutions of liberal democracy to represent them, what could possibly be left? Instead of addressing these epochal challenges, Trump channeled the anger generated by anti-democratization and inequalities into a resentment-driven politics.
As Wendy Brown put it in her 2019 book In The Ruins of Neoliberalism, the political emotion of resentment — or ressentiment — has often been used as a right-wing cudgel to condemn the Left as primarily driven by envy and jealousy. Rather than dealing with their problems in a healthy manner, progressive movements are said to project their animosities onto alleged systems of oppression that hold them back.
Brown points out that according to this conservative reading, resentment is always directed from the bottom upward, ignoring that demands to break down systems of oppression may not be about envy but justice. But more importantly, it also ignores how resentment can be directed from the top toward the bottom.
In this case, many of Trump's supporters occupied positions in between powerful elites and the even more dire situation of immigrants, refugees, people of color, and women. As the sociologist Arlie Hochschild has observed, there was deep anxiety that these groups were trying to cut in front of people whose vision of the American dream had already been long postponed by the inequities of neoliberal capitalism.
Rather than mobilizing just anger to reform the very top, Trump played on these anxieties to generate a sense of resentment directed toward the bottom. He claimed that the real reason for economic decline (particularly in rural America) and growing democratic unaccountability was a combination of foreigners, deviants, and radicals allied with ultra-woke cultural and media elites on the political left. Unless real Americans banded against them, they would swiftly see their country taken away and mutilated until it was barely recognizable.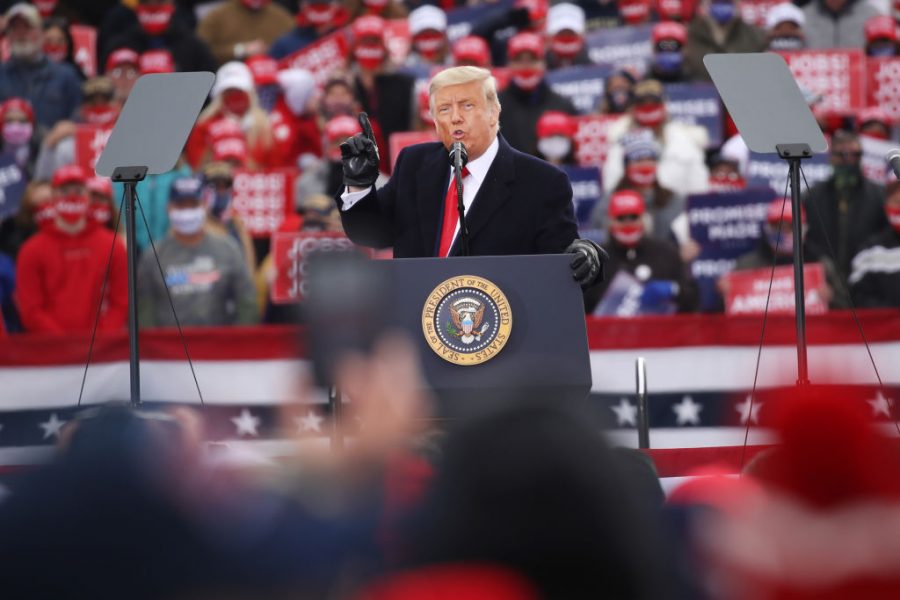 Trump was thus able to divert attention from the profound structural inequities of our time toward an agonistic politics where "giving the middle finger" to liberals would serve as an ideological substitute for change. Consequently, he was able to insulate the economic power of American capital from serious pressure — even handing them a huge tax cut — while further corroding democratic institutions and the public sphere on which the demos relies to arbitrate claims of truth and falsity. He was also able to invest himself with an aura of personal impunity and power, all while stoking fears that he was the victim of a vast conspiracy of enemies — an ideologically necessary contradiction since stoking his reputation for greatness and strength was utterly dependent on constantly overcoming ever more powerful enemies.
Much of the animosity of the Trump era was defined by these contradictory tensions, with the president simultaneously declaring endless victories over "loser" opponents while appropriating the most vulgar tropes of a victim culture he claimed to oppose in order to posture as an oppressed voice swimming against the progressive tide. Even reality could be rejected as a thin phantom next to the will of the leader, whose voice echoed through Twitter to rewrite the world and its history as needed.