From Jacobin
Interview by

Denis Rogatyuk
Bruno Sommer Catalan
Looking at the sweeping successes for Bolivia's Movement Toward Socialism (MAS) in the October 18 general election, one can easily find parallels with its first successful presidential campaign back in 2005. As with the clashes leading up to the recent election, the years preceding Evo Morales's success in that earlier contest saw a series of crises, which helped propel the coca growers' leader to the highest office in the land.
Back then, the neoliberal economic model introduced by Hugo Banzer Suárez's military dictatorship and developed by subsequent right-wing governments had reached the height of its unpopularity. Bolivia was reeling from economic crisis following the imposition of IMF debt and subsequent "reforms." And the 2003 gas war — a mass revolt against government bids to export large quantities of natural gas to the United States via Chile — detonated whatever remained of neoliberalism's perceived stability.  When Bolivia went to the polls in 2005, the "Black October" massacres against social movements in the city of El Alto remained fresh in the popular memory. The country was set for a radical change under a new, socialist government that also incorporated indigenous and so-called "Katarist" political traditions.
Turning to today, and the eleven months preceding Luis "Lucho" Arce's election win last Sunday appear as a fast-forward repeat of the disastrous years of neoliberalism that preceded Morales's initial victory. The Bolivian economy had been the fastest growing in the region prior to the November 2019 coup against Morales, but this year it suffered a 6 percent drop as the COVID-19 pandemic and economic mismanagement under Jeanine Áñez's regime took their toll. The post-coup massacres in Senkata and Sacaba, even deadlier than those in El Alto in 2003, revealed the repressive nature of the new regime and its apparent continuation of the traditions of past military dictatorships.
The regime's actions did much to boost MAS support. Corruption scandals like the case that saw hundreds of overpriced ventilators and other COVID-19 related medical equipment being stolen by members of the Áñez regime generated disgust on the Left and disappointment even on the Right, given the sheer rottenness of the new regime. The persecution against political activists, journalists, MAS leaders and the constant postponement of the elections sparked another mass popular revolt in August, bringing the country to a standstill — and forcing the government finally to accept the election day of October 18.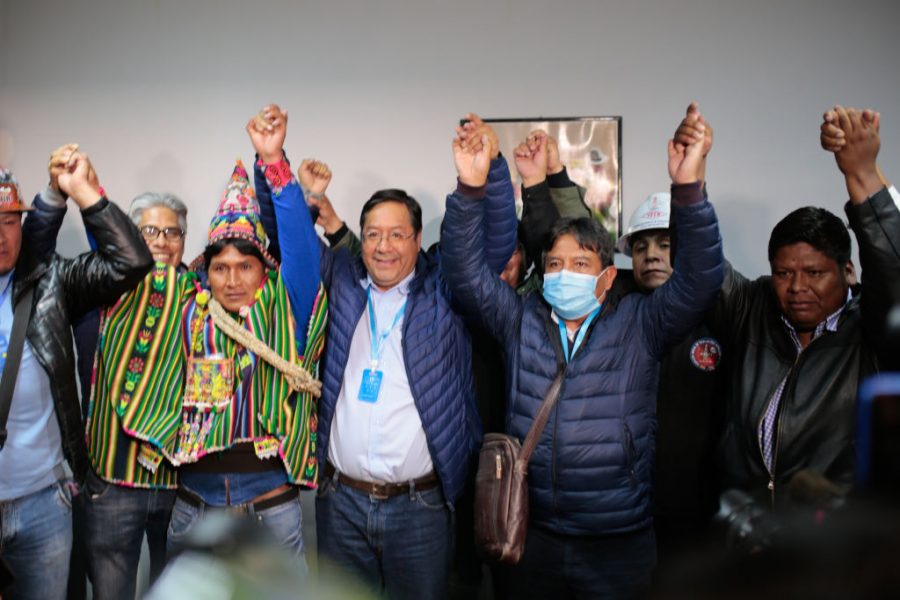 It is therefore not so surprising that the final result of the 2020 election was nearly identical to 2005. While MAS took 55.1 percent of the vote, neoliberal ex-president Carlos Mesa scored 28.8 percent and the far-right candidate from Santa Cruz, Fernando Camacho, 14 percent. The decisive victory for MAS also guaranteed it a majority in both houses of the plurinational assembly — 73 of 130 MPs and 21 of 36 senators — thus ensuring it the political stability that will allow it to drive a recovery in Bolivia's economy and social fabric.
Adriana Salvatierra was president of the Bolivian Senate under Morales's final government. She sat down with Denis Rogatyuk and Bruno Sommer Catalan to discuss Bolivia's future and the particular difficulties bequeathed by the outgoing regime.
---
DR
You were traveling all over Bolivia campaigning for MAS prior to the election day. How was the campaign in recent weeks, and how do MAS comrades feel about what they have achieved?
AS
It has been a fairly tense campaign, because the narrative of electoral fraud [in 2019] was constructed to legitimize what happened in November, which was a coup. Just as we won the elections in 2019, we won the elections in 2020, now with 55 percent. That is important, because the arguments they used to legitimize the coup have collapsed.
The second important element is that it has been a demonstration of the spirit and courage of the Bolivian people. One day before the elections, Jeanine Áñez's government carried out military exercises and a "show" of the police and military force in the streets, seeking to intimidate the Bolivian people. And yet they made  themselves felt at the polls with this 55 percent vote.
It has also been a year of profound learning for us as MAS militants — a year full of pain, but which has also opened a path of hope that is very important for us.
DR
MAS has obtained 55 percent of the presidential vote, but also a majority in both houses of the Plurinational Assembly. Was something like this expected — and how can we explain those results compared to last year's elections?
AS
We had calculated that we would win in the first round, but I was surprised by the force with which we surpassed 50 percent support. I believe that the reason for our victory lies fundamentally in the fact that MAS interpreted the needs of the population in this adverse context, while other parties quarreled over which was the legitimate or best opponent to MAS.
We focused on answering the questions that the people raised, answering how we were going to regain stability and economic growth, how we were going to promote a new process of job creation, how the economy would be reactivated under the management of Luis Arce and David Choquehuanca. I think those factors made a fundamental difference compared to other parties.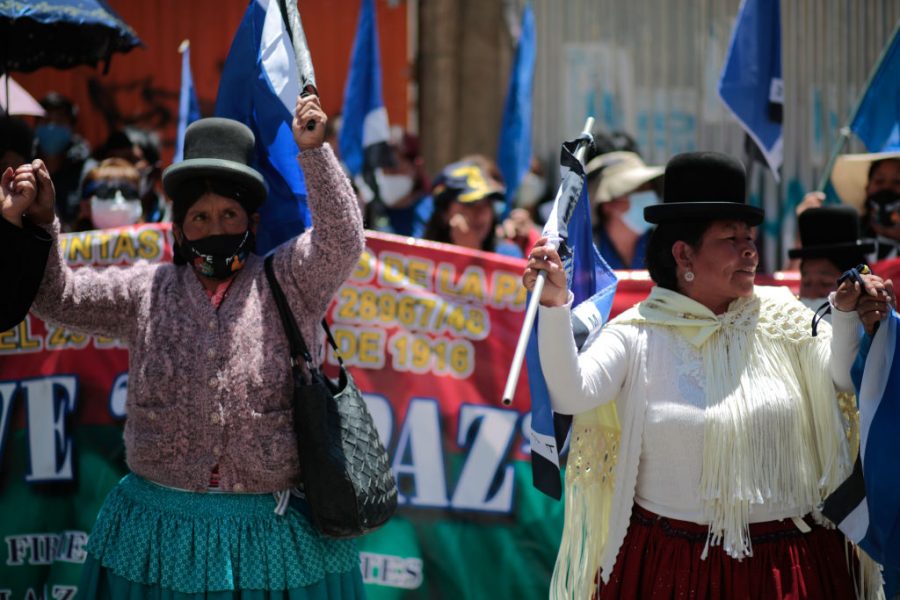 The second element is that the people have been able to compare and contrast. The opposition that for fourteen years questioned and denounced MAS's political project, our democratic and cultural revolution, itself exercised power [over most of 2020], demonstrating its inefficiency and inability to manage the state apparatus. More fundamentally, it acted politically in compliance with the class interests to which it corresponds. And in that contrast, people could see how they were a year ago and how they were now, how their life was organized a year ago, how their finances were planned. Now all that has collapsed, not only because of the health crisis but because of poor management of public affairs.
BSC
After MAS's democratic election, won with a vast majority, we continue to see various far-right paramilitaries attacking MAS-affiliated groups and not recognizing its victory. How has this impacted the social movements — have they been able to resist the various attacks, and how are they going to address this problem in the coming weeks?
AS
I believe that what actually exists is street agitation aimed at strengthening the leadership of [far-right candidate] Luis Fernando Camacho at the regional level. Yes, there are fascistic paramilitary groups, but each time, they are reduced to a minority.
Even Mike Pompeo recognizes MAS's victory; it has been recognized by the international community, by states, international observers, the Supreme Electoral Court, and by the political parties that participated in the election, with the exception of Luis Fernando Camacho.
So, I think his is becoming an increasingly lonely position, more abandoned, lacking an alternative proposal, but that seeks to assert Luis Fernando Camacho's own importance, in order to make him the valid interlocutor for the [Santa Cruz] region.
DR
Santa Cruz has always been a decisive province in political terms. How do you think the future MAS government will face the problem of separatism and extremism there?
AS
I think we are starting from a highly complex scenario, insofar as the MAS no longer has a monopoly on the grassroots. We have a capacity for national mobilization, yes, but we must restructure our presence, specifically in the city of Santa Cruz.
The urban area of Santa Cruz de la Sierra, as a municipality, is divided into eight districts. We — of course — have a strong presence in rural areas. But in the 2014 elections, we took three constituencies in the south-southwest area of our city, and today we only have one, and it is quite a delicate situation. We have also lost the [working-class suburb] of Plan 3000, which has always been considered a bastion of MAS.
So, this deserves careful attention. Losing two constituencies and leaving only one in the urban area, we are in adverse conditions for resistance to a fascist project in territorial terms, which implies the need to restructure our activism there.
But I also think that the most important conflict that surrounds Camacho is extreme conservatism and regionalism. This has marked his own "line" of campaigning, not only instrumentalizing religion as a demographic identity, but also using regionalism as a flag to make imposition on the whole country. I think as Bolivians that is not what we seek to build: we fundamentally believe in integration as an essential element for national development.
BSC
What future do you see for the Bolivian right? Have they been left without a leader? Is there not going to be a real opposition to MAS in coming years?
AS
We must not underestimate the Right. I believe that there is a political project behind Camacho, but it is territorially implanted in the Department of Santa Cruz, cloistered within departmental limits, and we cannot ignore that. The problem with this project is that it is a matter of imposition from the local level to the national level and not a national project as such.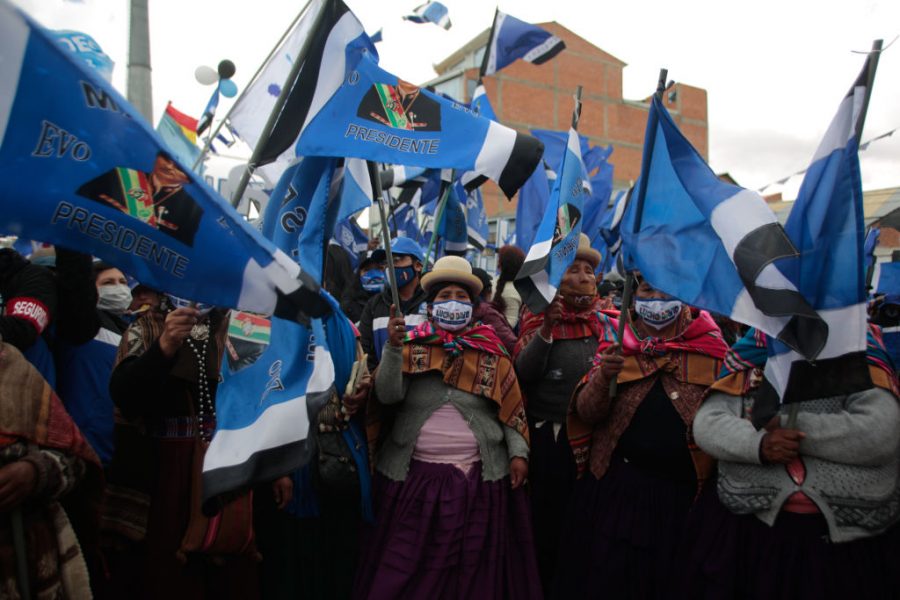 The second conflict I see around Camacho is that it actually represents a history of retreat for the forces attached to the local ruling classes, defeated by the emergence of a national political project. We already saw this in [the far-right revolt of] 2008, when this scenario of confrontation between region and state was first generated, and what [Morales's then vice-president] Álvaro García Linera called the "bifurcation process" took place. The opposition centered on eastern Santa Cruz has tended to withdraw into to its territorial heartlands in order to dispute local mayoralties, governorships, and cooperatives, proposing to exercise resistance on that basis.
BSC
What will be the role of women in this new MAS government? Is there any self-criticism of the previous level of participation, and what should it be in this new period?
AS
We have made profound progress, without a doubt. We are the first country to achieve gender parity in legislative bodies, even at the local level. We have made great progress in changing the land tenure structure, guaranteeing that the proportion of agrarian titles in women's hands rises from 15.6 to 46.5 percent. We have made progress in regulations that guarantee women mechanisms for protections against domestic violence and also political violence. Of course, there is still much to do.
We have to bridge historical gaps that emerged from patriarchy, a system for reproducing of gender privileges. I think we should reflect on women's participation and how we women carry forth gender-based agendas or otherwise. Being a woman parliamentarian does not necessarily mean that we are focused on gender, and we must reflect on this, insofar as such representation constitutes an important advance for our society.
In addition, I believe that today we can identify the emergence of young colleagues certain of the validity of MAS's political project. This is transcending generational boundaries, guaranteeing the endurance of our project over time as we advance in realizing its fundamental pillars — sovereignty, the democratization of wealth, and the expansion of opportunities for everyone.
DR
What is the future for youth organizations in the Bolivian "communitarian revolution?"
AS
Hugo Chávez once referred to the Venezuelan youth in a congress telling them that they were the best generation not because of what they have conquered but because of the challenges they faced, and I think that today applies to our country.
Our generation has fulfilled the enormous challenge of returning to the path of democracy, to a legitimate government. It has recognized the progress we achieved over fourteen years [of Morales's presidency] and wants to continue along that path, because the emergence of conservative political projects has shown us that it is possible to go backward even with regard to conquests we may have considered irreversible. The fact is, it can happen. This has been fully demonstrated by Brazil and the Macri government in Argentina.
But this experience itself presents an enormous challenge, as political militancy itself has to address a different environment. The problem is that many young people in Bolivia are likely leaving behind the life known to trade unionists working in the fields. They assume new forms of organization, new ways of communicating and of expressing themselves. There lies the challenge for this generation, in continuing to build that common horizon of ideas using these new tools.
DR
Do you think Bolivia needs reform in terms of communications? How you can create new alternative means of communication to compete with the private media — and stop them being able to foment coups d'état?
AS
I think that the media did play an important role, as an apparatus propagating the "electoral fraud" narrative that legitimized the coup, but nothing more than that.
The last poll that Página Siete published [before the October 18 election], said that Carlos Mesa was ahead in terms of voting intention, a little way ahead of Luis Arce. But you see the electoral result last Sunday and see that this poll has absolutely no connection with reality.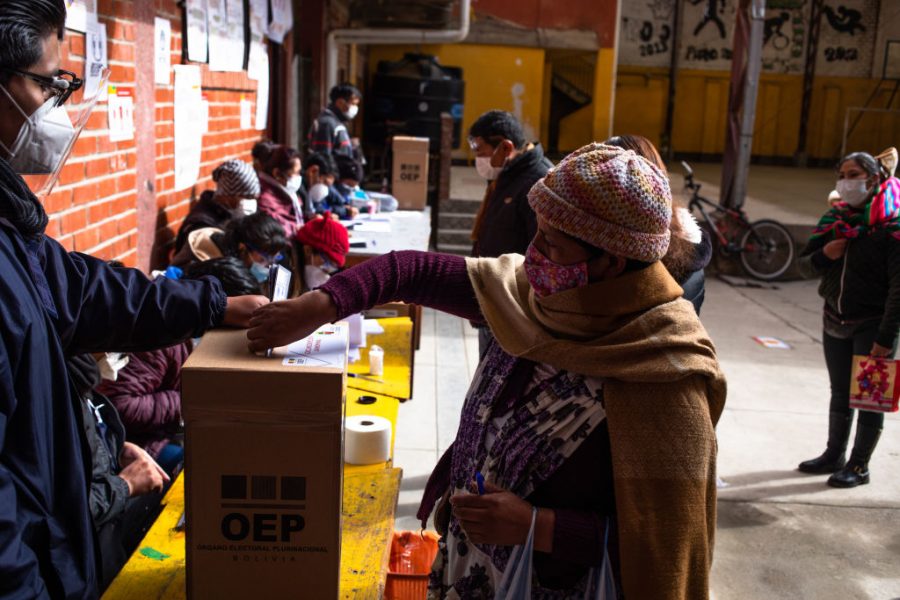 What does this show you? That — of course — this was a media outlet serving the electoral interests of a given political force. That also delegitimizes it, because clearly, from that, one understands why it attacks MAS, why there is so much virulence in the comment pieces, in the headlines, in the contrivance of an image of living under a dictatorship, of legitimizing and applauding everything related to Carlos Mesa.
After the election, there was even a publication that said Carlos Mesa was one of the thirty most influential people in the world talking about the environment — a man who just lost an election by over 20 points, whose only gesture regarding the environment was to take a selfie holding ashes from the forest fires in the Chiquitanía. But, there you see the role of politicized media. It is legitimate for them to assume a political position, but what is neither legitimate nor correct is that they lie about it. The only thing that we demand from the media is truth, truth to inform, for investigation, and to assume an open and honest position.
BSC
How is MAS preparing for the future? In what way is the MAS going to strengthen the alternative, independent media, and public media beyond that?
AS
There are two answers to that. The first is that we made an important effort with the creation of community radio stations. These have breached the media "fence" around a narrative that showed MAS militants as intolerable savages, MAS's political project as standing in ruins, and leveled all manner of allegations against us.
We made that effort, but we still find that there is also a preference [for news via social media]. This did not emerge spontaneously; it fundamentally owes to what is invested in different media to achieve greater reach. Facebook has the greatest reach of all, even more than the official media networks with the biggest TV audiences. But we have lived through a highly complex polarization process: I had colleagues in El Alto and in the Tropic of Cochabamba tell me "on November 11 [the day of the 2019 coup] I turned off the TV and I don't listen to it until today, because of TV misinformation."
What we should be doing is not just to build alternative media; rather, we need to strengthen the quality of these alternative media so that they offer products that the population want to consume. The essential thing is not just to create them and leave them running, but to strengthen their content so that they both appeal to the population and contribute to upholding certain principles.
DR
What role would you like to play in the new government? What plans do you have — will you continue working with the youth to form new leaderships?
AS
I have applied for a master's degree in human development and democratization, and I am waiting for the response. Leaving aside the public administration post where I have already worked for five years — and I hope to be evaluated positively — militancy does not stop at public service. Contributing to the country is not limited to some responsibility in the state; indeed, it lies also in academic training, which can develop your understanding.
But I think returning to militant engagement is fundamental, because otherwise we lose the essential thing. And I am sure that the colleagues who assume roles managing the government and the legislative process and heading the public administration will be deeply committed colleagues with the social bases from which they emerge.
I don't know what is in store for me, but whatever responsibility it is — from the simplest to the most complex — I will fully commit to it.
DR
What can the international community and friends of Bolivia do to help the people recover and restore the Plurinational State?
AS
I believe that the reconstruction job is highly complex, but we must contribute to the reactivation and strengthening of international integration organizations, such as CELAC, Unasur, and ALBA— spaces in which US tutelage was dispensed with. In these regional bodies, relations were established between states and peoples that, decisively, were not based solely and exclusively on commercial exchange, but also on solidaristic relations among peoples. They were spaces that not only contributed to democracy and political stability in the region, but upheld the principle of sovereignty and respect for the choices in each country.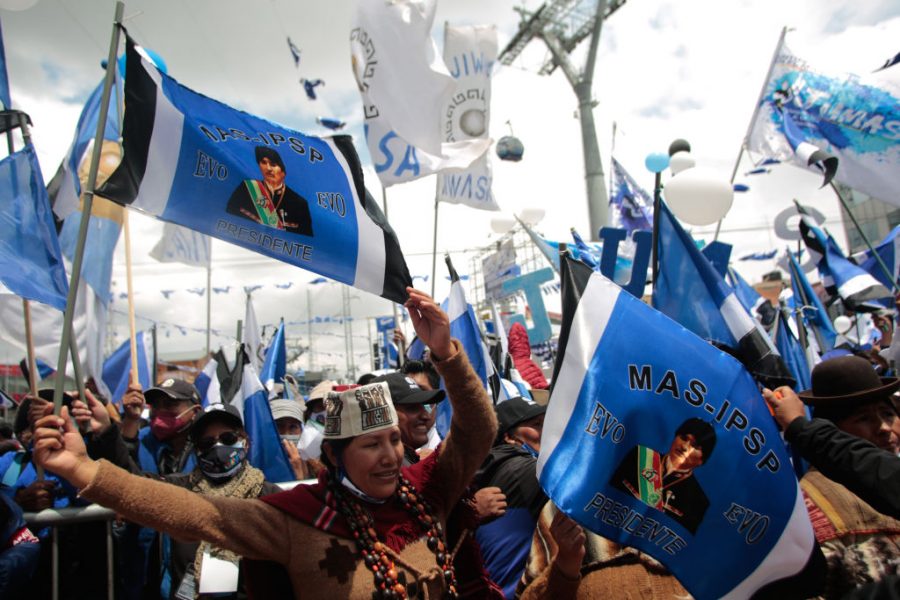 We feel the absence of those integration spaces precisely at the moment of the pandemic, as states prefer to turn their backs and close their borders rather than jointly contribute to the fight against the health crisis. I believe that this should be an important scenario that we take into account for the reactivation of international relations between states and peoples, based on solidarity and complementarity.
DR
What effect do you think the MAS victory will have on the rest of the continent?
AS
Many spoke excitedly about the end of the progressive cycle. But MAS's victory proves the validity of this political project, confirms that it is from this side of history that the people wish to build a sovereign, dignified future with social justice.
I believe that MAS's victory in Bolivia represents that, and also highlights the clear political role of bodies like the Organization of American States (OAS). It sought to legitimize a coup, make itself a central protagonist, lie to the Bolivian people. Ultimately, that ended with the death of at least thirty-four of our compatriots, and the pain brought to our families. OAS made us lose a year; they came to Bolivia to disrupt our lives. That must be discussed as well.