From CommonDreams
Although I've written (FAIR.org, 9/15/20) about US media's refusal to forthrightly report that President Donald Trump is trying to steal the 2020 election—despite giving every indication that he intends to do so—it's still surreal to watch journalists continue to engage in euphemism and indirection as Trump tries to execute a soft coup in real-time.
At the time, I noted:
While FAIR (9/27/19, 11/22/19) has often criticized the false objectivity of news coverage in the Trump era, the division between the news and opinion sections still remains a valuable distinction because of the implication that straight news coverage deals with delivering factual information, which leaves less room for disagreement. When the media are unable to present as fact that Trump is trying to steal the 2020 election, they are implying that there is room for debate about what his intentions are, simply because he hasn't explicitly stated: "I am trying to steal the election."
While I admittedly didn't expect corporate media performance to be any better after the polls were closed, it's still difficult to write this article without being infuriated by the timid refusal of the establishment press to condemn Trump's ongoing election-theft efforts:
These headlines convey that it's not true when Trump says that he "already won." What they don't say is that Trump is trying to overturn the results of the election by blocking legal votes. It's turning an imminent threat to democracy into a factchecking "gotcha."
It is of vital importance to name and denounce Trump's strategy of throwing out votes against him in the name of fighting "fraud," as he laid out in remarks at the White House on election night:
Millions and millions of people voted for us tonight, and a very sad group of people is trying to disenfranchise that group of people and we won't stand for it….

This is a fraud on the American public. This is an embarrassment to our country. We were getting ready to win this election. Frankly, we did win this election. So our goal now is to ensure the integrity—for the good of this nation, this is a very big moment—this is a major fraud on our nation.

We want the law to be used in a proper manner, so we'll be going to the US Supreme Court. We want all voting to stop. We don't want them to find any ballots at four o'clock in the morning and add them to the list. OK? It's a very sad moment.

We will win this, and as far as I'm concerned we already have won it.
Since media know—and are reporting—that Trump has not won the election, and there is no "major fraud," Trump's statement amounts to a declaration that he will overturn the results of the election to keep himself president—"for the good of this nation," of course. In the face of this assault on democracy, corporate media appear content to offer factual corrections of the sort that Trump and his base will simply ignore, as they have done for the past four years regarding countless other lies he has told.
Indeed, corporate media cannot even straightforwardly report that Trump is lying about winning the 2020 election, instead employing flaccid euphemisms like "falsely asserts" and stating things "without evidence," which have by now become mere comical and impotent phrases to describe presidential deceit (FAIR.org, 11/16/17, 11/24/20).
This failure to report an ongoing coup attempt is even more incredible when we recall that Trump had already telegraphed his attempt to steal the election by prematurely declaring victory on Election Day (Axios, 11/1/20). Yet we are not seeing many headlines in corporate media like Mother Jones' "The Trump Campaign Is Openly Trying to Steal the Election" (11/4/20) that would more accurately convey the gravity of the situation.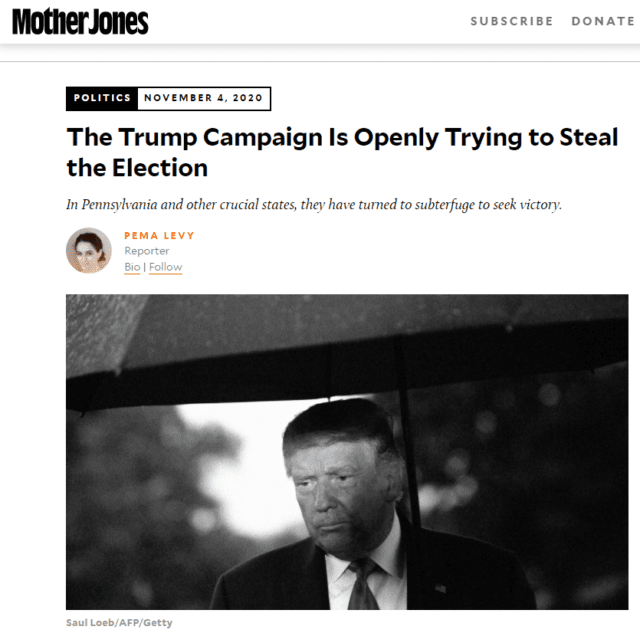 As some have already pointed out, Trump's claim that counting all the mail-in ballots is a "fraud" resembles the bogus argument that the Organization of American States and US media made to delegitimize Bolivia's October 2019 election (FAIR.org, 11/11/19, 3/5/20), when they accused President Evo Morales of election fraud by citing a "drastic hard-to-explain change in the trend of the preliminary results." The Center for Economic and Policy Research immediately put out a statement (10/22/19) explaining that the alleged "irregularities" can be explained by the first precincts to report being different from later ones, with the latter heavily favoring Morales.
Similarly, since Democrats were more likely to favor mail-in voting due to greater concerns about the pandemic—the reason Trump tried to sabotage the Post Office as part of his election theft efforts—reports prepared us to expect a "red mirage" when polls first closed and a "blue shift" as mail-in ballots were slowly counted.
Yet we are still getting fatuous "both sides" journalism from outlets like CNBC, which ran the irresponsible headline "Biden and Trump Campaigns Both Claim to Be Winning the Election" (11/4/20). Apparently Biden's campaign manager Jen O'Malley Dillon saying that Biden is "on track to win this election"—an accurate summary of electoral observers' assessments—can be equated to Trump's statement claiming that he "already won." It's clear that for CNBC, simply ignoring Trump's earlier remarks while citing his campaign manager Bill Stepien's more toned-down statements, like "We feel like the president is in a very, very, very good position this morning," is enough for a story based on false equivalence.
Trump calling on the Supreme Court to "stop a major fraud in our nation" by halting the vote count, and Trump-appointed Supreme Court Justice Brett Kavanaugh signaling his willingness to aid Trump's election-theft efforts by citing Bush v. Gore—when Republican justices stole the election for George W. Bush in 2000—is only further evidence of Trump trying to subvert the election. Since Trump has already refused to guarantee a peaceful transfer of power, let alone concede defeat in the event of a loss, it is imperative that the media inform the country of Trump's soft coup attempt, so that the people can mobilize to prevent an anti-democratic takeover of government.