From Jacobin
One of my all-time favorite comedy clips is a bit called "People Without Children Have NO IDEA What It's Like!" by comedian Michael McIntyre. It's cathartic for parents, and it should be mandatory education for adults who don't have children. "You think you know what you're talking about," he painfully winces. "YOU HAVE NO IDEA."
You have no idea how difficult things will become in your life. Things that you don't even consider to be things will become nearly impossible when you have children. I'm talking about things like leaving the house, for example. This is how people without children leave the house: "Shall we leave the house?" "Yes."
He then painfully itemizes the countless battles that must go on with children every. single. time. you attempt to leave the house. It's real.
Sleeping . . . hahahahaha. Sleeping at night! This is how [it goes for] people without children, most nights: "Goodnight, darling." "Goodnight." Sometimes you go: "Sleep well." "I will." That's how cocky and arrogant you are . . . It's been a long time since my wife and I said goodnight to each other. Now we just go: "Good luck."
I hope Michael considers a pandemic-era update. It could include the half-hour battles I have with my four-year-old child every day, sometimes several times a day, to wash his hands. In a best-case scenario, we reach a ridiculous "compromise" wherein I have to deliver a bowl of water and soap to whatever perch he has climbed up to escape me. Alternatively, I resort to physical force and carry him screaming to the bathroom, then push his unwilling, fisted hands into the sink; prying open each finger individually, I scrub them myself. This is usually plan B, because just from a time-management perspective, it also involves an additional half hour of understandably having to hear from him about the injustice of what I've done. We have to go through the routine all over again when he rubs his hands on the bottom of his sneakers out of spite. This is daily life.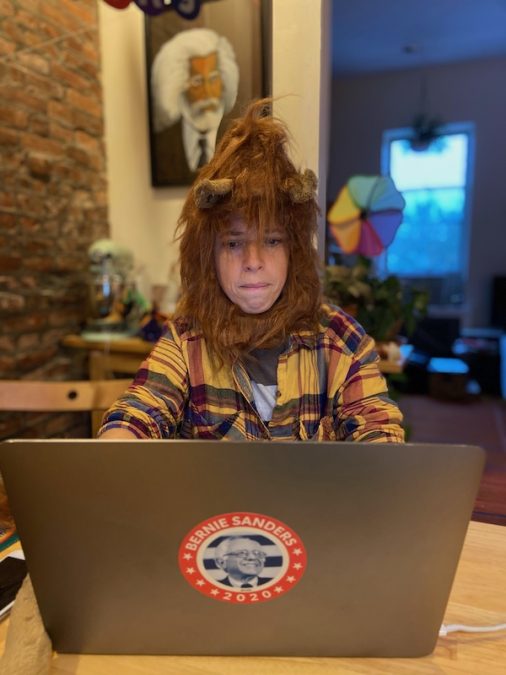 The emotional toll of the pandemic on our children now also requires, in my household at least, that my husband and I have to pretend to be all five of the members of the band the Go-Go's, plus all of their pets (mostly hyenas and Siamese cats, apparently) at every meal time. The Go-Go's moved in around springtime, once real-life friends were no longer able to visit. And while, a year ago, I felt like I was getting the hang of talking to my son about the state of the world, now I have to fumble to answer questions like (literally): "Is the world going to end?"
The most glaring problem is the impossibility of parenting your child(ren) when school is either closed or unsafely open, while simultaneously "working." In the best-case scenario, if, like me, you have a job that allows you to work from home, and you have the ability to keep your child out of the COVID-19 petri dishes of the public school system, then congratulations: you have signed up for an impossible task.
As Purva Gopal, with children aged one and three, told the New York Times, she does her remote work early in the morning and late at night, or in stolen minutes "during which one or both girls are hugging my legs or asking to be picked up." Indeed. I am currently writing this article at 1:00 a.m.
For those parents that aren't so lucky, they have to work around school timetables, many of which now entail staggered attendance schedules with part-remote and part-in-person learning, assembling a complex childcare puzzle around that schedule: drop-offs, pick-ups, and time at home. All the while, you're expected to show up at work daily, and you have to worry about the possibility that school, or work, or both are exposing your family to a life-threatening virus. In the places where school and childcare are not available, the only option is to lose your job.
The most impossible of situations falls to single parents, most of whom are single moms. A quarter of US families are single-parent households (and four out of five of those households are headed by single mothers). A single mom must somehow manage to parent all day and all night, while also working and being the sole provider of income. In the cases where schools and daycare centers are closed, single parents are not able to work.
Without a job, they are left with little to no unemployment benefits to feed and shelter their children, and with no other parent in the house to take over while they apply for jobs or run basic errands to get groceries. During the pandemic, the lack of social supports for single parents is heightened, because social-distancing measures make it nearly impossible to get outside help.
There is, as one economist bluntly put it, "no escape."