From Jacobin
A welder from South Korea is calling for her reinstatement to the shipyard where she was fired for union activity thirty-five years ago. This campaign will likely be the last one waged by Kim Jin-suk against her deadly, anti-union employer, Hanjin Heavy Industries and Construction Co., Ltd.
Kim first made international headlines in 2011 after she sat atop a 115-foot shipyard crane for 309 days demanding that Hanjin reverse its massive layoffs. Her occupation was successful, with the company rehiring nearly a hundred unionists after a social movement inspired by her sit-in broke out across the country.
Now, on a sickbed fighting breast cancer, the sixty-year-old Kim wants to return to work before she reaches mandatory retirement age at the end of the year. But so far, the government hasn't budged — despite the fact that Moon Jae-in, the human rights lawyer who once defended her labor rights in the courtroom and fought together with her on the streets for their country's democracy is now the president of the country.
Kim's request, however, shouldn't be seen as a personal affair. It's a much larger statement that tells the story of South Korea's hard-fought journey to democracy — a story that starts on the docks of Busan. Because bound up in this extraordinary woman's life is the very struggle that first brought that democracy to South Korea — and the heroism of a labor activist who wouldn't back down in the face of overwhelming, and deadly, odds.
But most of all, Kim's story is proof that it wasn't capitalism or technocrats that built modern-day South Korea. It was militant trade union activists just like her.
South Korea Under Military Dictatorship
In 1981, the Hanjin shipyard in Busan was the farthest a twenty-one-year-old Kim could get away from her poverty-stricken farming home on a small island off the west coast of South Korea. After years of working as a street hawker and a seamstress, she was among the country's first female welders.
It was a dark time for South Korea. The military dictatorship of Chun Doo-hwan was at its height, with Chun having seized power just a year earlier after massacring pro-democracy protesters. He abolished all independent labor unions, leaving only the official, pro-government ones.
Kim's shipyard already had one such legal union, which had done almost nothing to address the brutal and inhumane conditions at her workplace. There was no cafeteria or toilets around the docks. The company sold workers overpriced lunchboxes often contaminated with rodent droppings. The workers had to eat in the same corners where they would urinate and defecate. With no safety precautions, on-the-job death was commonplace — officially classified as "self-inflicted" thanks to false statements coerced out of coworkers. In cahoots with the company, union officials even stole paltry death payouts and embezzled meager union funds.
In 1986, having had enough, Kim Jin-suk, along with fellow dockworkers Kim Ju-ik and Park Chang-su, decided to take on their union's corrupt leadership.
First, the trio organized a boycott of the lunchboxes. The company caved in and built a cafeteria offering free hot lunches. A year later, in 1987, mass protests forced free elections in South Korea, which in turn gave way to a huge unionization drive. Kim and her comrades rode that tide and finally voted out the corrupt leadership.
I asked her what work was like on the docks after that victory. "Workers stopped dying on the job," she said.
Kim, though, was fired that year, after refusing to be transferred to a remote workshop — a move designed to stamp out her influence. Her coworkers are now safe, but her own life was often in danger in those days. On one occasion, intelligence agents abducted her, hanging her upside down and beating her for several days. They let her go only after they realized they couldn't break her.
After her dismissal, Kim became what's known as a "third party" — an outlawed labor activist who helps other workers to organize. During the labor upheavals of 1987–1996, Kim was jailed twice, though on the whole it was a time of optimism for her — the country's labor movement was finally on the march. South Korean workers were now able to build strong and independent unions, which culminated in the formation of the Korean Confederation of Trade Unions in 1995 and a nationwide strike in 1996.
For the first time in the country's history, blue-collar workers finally had disposable income for modest luxuries. The rise of the South Korean entertainment industry coincided with the emergence of this new middle class. And the global multibillion-dollar phenomenon of K-pop and K-movies that it unleashed are unthinkable without South Korean labor activists like Kim.
A Deadly Struggle on the Docks
But then the tide of progress was reversed in 1997, as South Korea fell victim to the Asian financial meltdown. The crisis was of corporate making due to debt-fueled investment saturation. As usual, though, it was the workers who were called upon to make sacrifices, with rounds of job cuts and redundancies spreading across the country. But now it was the liberals, once the allies of labor against military rule, who pushed through neoliberal anti-labor measures.
Between 1998 and 2008, under the two consecutive liberal governments of Kim Dae-jung, a lifelong dissident and a Nobel Peace Prize laureate, and Roh Moo-hyun, a human rights lawyer, South Korea locked up more labor unionists than any other democracy, with around two thousand jailed.
When Kim first appeared in international headlines in 2011 for her sky-high sit-in, things had not been going well for a long time. The South Korean labor movement had failed to stop a single layoff since they first began in 1997–98 amid the Asian financial crisis. Hanjin, Kim's employer, was at the forefront of that assault on workers.
Hanjin is a shipbuilding and construction giant owned by Cho Nam-ho. Cho had inherited a slice of the empire his father built after a high-profile feud with his elder brother, Cho Yang-ho, who had claimed the lucrative Korean Air and its global aerial and maritime network for himself. The latter Cho's daughter Heather gained global notoriety in 2014 when she ordered that her passenger plane be turned around at JFK Airport before takeoff to remove a flight attendant who served her macadamia nuts in what she believed was an improper manner. The two Chos were a notoriously hostile duo who publicly bickered but still managed to cooperate in leading one of the nastiest anti-labor chaebols, or family-owned conglomerates, in the country.
Kim knew the risks of taking on the brothers when she first scaled the shipyard crane. In October 2003, Kim Ju-ik, then-president of the Hanjin labor union, committed suicide by hanging himself on Crane 85 after his 129-day sit-in went unanswered. He was only forty years old. Two weeks later, another union member, Kwak Jae-kyu, forty-eight years old, threw himself off the dock. "Just fifteen days apart, we had to pull down the body of one comrade from the sky and pull up the other from the ocean," Kim Jin-suk said in her eulogy at Kwak's funeral.
Hanjin was on a mission to decimate its militant labor union — and it was working. In 2010, the company shed 650 jobs and froze wages, despite ongoing profits in shipbuilding. To make matters worse, it was moving entire shipyard operations to Subic Bay in the Philippines.
When another cut of 400 jobs was announced later that year, workers had finally had enough, and they launched a wildcat strike. Hanjin quickly struck back with a series of injunctions garnishing their wages and seizing assets to cover alleged damages caused by stoppages dating back to 1991. But the wildcat strike continued, despite another injunction slapping each worker with $1,000 in damages for each day of the stoppage.
For the conglomerate, it was something of a vendetta — 1991 was chosen for a very particular reason. It was a year of turmoil at Hanjin, following the death, under government custody, of Park Chang-su, the union president and an ally of Kim's. The thirty-one-year-old Park was arrested in February of that year, running afoul of the "third-party intervention" provisions. The vague statutory definition of "third party intervention" outlawed individual advocacy or solidarity to preempt organization of labor unions at the national or industrial level.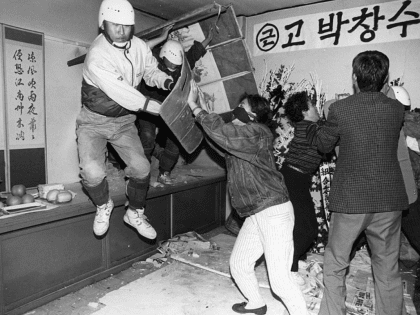 Among his third-party crimes were Park's leading role in a loose network of large factory unions. During interrogation, police and agents of the NIS, the country's equivalent to the CIA, beat Park and deprived him of sleep to force his departure from the association. Three months later, he was found dead in the backyard of the hospital where he was being treated for a head injury sustained in a government detention facility.
The police called his death a suicide, without explaining how he somehow got injured while in detention. One day after his lawyer and prosecutor verbally agreed to an independent autopsy, riot police sledgehammered through the walls of the mortuary and snatched Park's body away from his family.
His death sent a clear message to labor activists: go up against Hanjin, and risk your life.
"My New High-Rise Home Has a Great Ocean View" 
On the morning of January 3, 2011, when Kim climbed up Crane 85 at daybreak, Hanjin management probably believed the labor union was near extinction. "I did everything I could on the ground. I know all too well what Crane 85 stands for," declared Kim in a note before her occupation. "I have no reason to live without our union."
The threats of layoffs and injunctions seeking damages from individual members diminished the union to fewer than one thousand members, from its peak of more than three thousand. Hanjin had flouted a collective bargaining agreement, shedding jobs and closing two shipyards. In February, the company laid off the first batch of 172 workers after locking them out. Still, about a hundred workers managed to squat below Crane 85, staging a sit-in in support of Kim.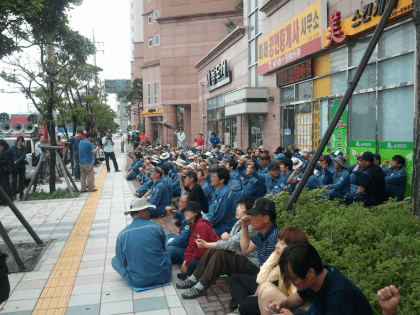 But atop the crane, Kim was in virtual isolation — once a day, she hoisted up and down two buckets, one for food and water and the other used as a toilet. Hanjin management shrugged off her sit-in as a nonevent that would end soon — whether in her suicide or surrender.
Kim downloaded Twitter onto her smartphone on the advice of an activist who said the new popular app was useful to connect with people, as well as a way to fight boredom. From her account @JINSUK_85, she quipped in her first tweet: "My new high-rise home has a great ocean view." Soon, a stranger tweeted to her, asking, "How much is your penthouse?"
Kim's formal education ended at secondary school, but her communication skills were forged in the cauldron of underground and public labor organization. Now, Kim began to condense her life, her fight, and Hanjin workers' plight into a series of 140-character tweets. To give a sense of what the seemingly surreal $1,000-a-day penalty meant to workers, she tweeted that she slept seven hours at a personal cost of $291 and read for $41.
Her tweets tapped into a smoldering anger over corporate excess and governmental abuse at a time when social media was just starting to take off in one of the world's most wired countries.
South Korea's sterling rise as a global high-tech powerhouse had obscured a deepening inequality and rising poverty engulfing the country. Corporations were not alone in seizing workers' wages and assets for strikes. The government was also attempting to quash labor militancy by bankrupting labor leaders. In 2009, it won an injunction to claim 1.6 billion won ($1.6 million) in damages from unionists at SsangYong Motor, after brutally ending their seventy-seven-day factory occupation against massive job cuts.
Over more than a decade, a combination of government inaction and a free-market push had left one in every three workers clinging to temporary, no-benefits jobs. The unionization rate had halved, falling below 10 percent. Some people just simply gave up.
By 2011, with more than thirty suicides a day, the OECD's highest rate, more South Koreans died by their own hand than in automobile accidents. Life had become bitter, especially for the younger generations in a country that no longer provided job security or safeguarded their rights.
Worse, President Lee Myung-bak, a former Hyundai conglomerate executive, reinstituted much of the pre-1987 authoritarian apparatus, secretly empowering the NIS to meddle in political and civil affairs.
As Kim sat atop Crane 85 trying to draw attention to the struggle, the war against South Korean labor was only ramping up.
Kim's Heroism Inspires a Nation
But even as online support for Kim was on the rise, many feared for her life. After all, the struggle for workers' rights at Hanjin already had a body count. The virtual community that rose up around Kim's tweets certainly included some veteran activists, but far more were young women with no previous involvement in organized labor. To protect Kim, they decided to organize a caravan protest called Hope Riders.
On June 11, about 1,200 Hope Riders scuffled with Hanjin security guards at the shipyard gates. As online solidarity finally burst into the streets, Hanjin could no longer afford to wait for Kim's sit-in to fizzle out. Two weeks later, after some backroom negotiations, union leaders agreed with management to end the strike without a member vote. When they signed a new agreement, security guards broke up the sit-in below Crane 85 and evicted the workers.
Kim manned a loudspeaker atop the crane.  "I still have hundreds of reasons why I cannot abandon them," she roared, "although the union leaders gave up on me today."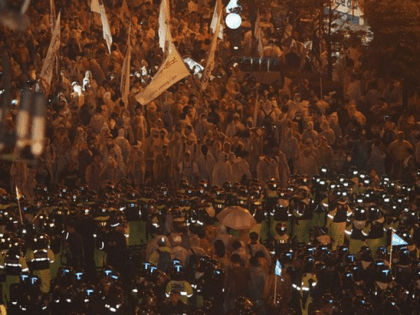 Security guards ringed Crane 85 and deployed a safety net to prevent a suicide attempt, in case Kim Jin-suk decided to end her protest in the manner of Kim Ju-ik, the previous occupant.
Hanjin then shut off electricity to the crane in order to keep Kim off Twitter. A few days later, though, Kim began to tweet again, thanks to a solar battery charger smuggled in a loaf of bread. Then Hanjin decided to simply starve her out — blocking food and water deliveries from her supporters. Even the Human Rights Commission, filled with President Lee's pro-business allies, refused to intervene.
Hope Riders sprang into action, protesting the barbaric move in the streets and online. Hanjin quickly caved in, and food and electricity were restored, while security guards were now equipped with metal detectors to prevent anything else from being smuggled up the crane.
The conservative government and Hanjin were baffled by the enormous wellspring of support for the tiny 102-pound woman squatting on Crane 85. Security guards first tried clearing her supporters from the gates. Then, on July 9 and 10, riot police used water cannons to blast nearly ten thousand Hope Riders with PAVA, a toxic form of tear gas, but the protesters swept downtown Busan and almost reached the shipyard.
On July 30, about fifteen thousand Hope Riders mounted hit-and-run protests across the city again, outsmarting police and thugs hired by the NIS and right-wing Christian groups. At 1 a.m. the following morning, the Hope Riders converged on the avenue, placing them and Kim in full view of one another.
Kim spoke through her smartphone hooked up to a loudspeaker. "Until tonight, we could not even imagine getting off the bus of despair that is crashing toward corruption, destruction, and barbarism," she said. "Now, we have built a bus on our own. On the bus bound for hope and bound for the future, we are all drivers."
Supporters flew two hundred sky lanterns, lighting up the predawn sky over Busan.
The Hope Riders campaign, against all odds, now had the momentum. After the rally, Kim broke down alone atop the crane and cried, knowing that her predecessor Kim Ju-ik would never have died had there been such public support during his own occupation. A new generation of activism was now keeping Kim Jin-Suk and her protest alive.
Kim's supporters continued to rally in Seoul and other major cities, calling on the National Assembly to mediate for Kim and her coworkers. In August, the assembly's labor committee brought chairman and CEO Cho to a hearing, where he revealed that he could not even recognize the faces of Kim Ju-ik and Park Chang-su, the two dead union presidents at his own shipyard. With much shame and humiliation, Cho agreed to comply with a deal to be mediated by the committee.
It took another three months to finalize. During that time, Kim and the Hope Riders gained more traction and broadened their support, further pressing Hanjin and the legislature. In October, film star Kim Kkobbi, internationally recognized for her leading role in Breathless, donned a blue Hanjin uniform and walked the red carpet to the Busan International Film Festival, Asia's largest film market. Via phone, Kim Jin-suk addressed Occupy Wall Street in Zuccotti Park. She declared her crane-top sit-in part of a global fight against corporate nastiness, and her fellow occupiers chanted her name.
On November 10, a triumphant Kim finally ended her 309-day sit-in, after a unanimous union vote to approve a new contract with the company. Most of the 400 originally laid off had already taken severance pay. But Kim and the Hope Riders helped bring back the jobs of ninety-four of the remaining ninety-eight workers, with $20,000 in back pay each.
The Unbreakable Woman
South Korean labor's first victory over layoffs was an invaluable landmark, but it came at the expense of Kim's health. After being admitted to a hospital following her sit-in, Kim was diagnosed with Hepatitis B. Over the years, the disease progressed into cirrhosis that may complicate her current battle with cancer. In early December, Kim underwent her second surgery since 2018.
Though Kim was only on the Hanjin payroll for five years, she and her union have been fighting to get her job back for the past three decades. They are not alone in this fight. Throughout this period, reinstatement of workers fired for union activity was a recurrent theme in collective bargaining in South Korea. But Hanjin refused to even discuss rehiring Kim, who it always saw as a troublemaker. She remains the only worker from the original Hanjin layoffs not to be reinstated.
Kim has repeatedly said she wants to die as a worker, not a "third party," at the shipyard where her comrades already laid down their lives for their union.
In an open letter in October to President Moon, who was also once her lawyer, Kim said, "In 1986, we were together [in pro-democracy protests] on the streets, showered with tear gas. In 1991, we were together in our fight to bring the death of [union president] Park Chang-su to light."
"As a lawyer, you said my dismissal is unjust," Kim said. "As president, do you still believe my dismissal is unjust?"
The Moon government is now better positioned to reinstate Kim than ever before. And today, Hanjin is held by a group of creditors led by Korea Development Bank, a government bank, after its money-losing shipyards in Subic brought down the conglomerate in 2019.
Much has changed in the ensuing years, not only since Kim joined the labor movement in the 1980s, but since her 2011 victory against Hanjin.
Kim has called her request nothing less than "the reinstatement of an era." Indeed, she embodies the generation of labor militancy and rising democracy in South Korea like no other. If South Korea still claims to be the democracy that both Moon, a former activist and lawyer, and Kim, a former welder, once fought for side by side, then she must be reinstated, before it's too late.