July 26, 2019 Ryukyu Shimpo
Veterans for Peace—Ryukyu Okinawa Chapter Kokusai (VFP-ROCK) President Douglas Lummis and members held a press conference at Okinawa's prefectural press club on July 25. The group announced VFP-ROCK's intentions to submit a new resolution for approval at the 34th National Convention of Veterans For Peace, which will be held in Spokane, WA next month. They seek to halt the construction of the new base in Henoko, Nago City with the new resolution.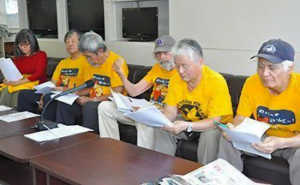 Lummis points out that in the defense authorization bill, a section that previously described the Henoko site as "the only option" has been replaced with language requiring re-examination of the Henoko base construction. Lummis plans to submit a written request to the U.S. government, to directly inspect the destruction of coral gardens, and the presence of active earthquake faults and soft sea beds.
VFP-ROCK members Yoshikazu Makishi, Osamu Ogata and Shisei Toma will be attending the annual conference in Washington.
Kaiya Yonamine, an Okinawan-American Nisei and Oregon high school student, will also attend the conference. She will be screening "Our Island's Treasure" at the conference, a documentary Yonamine produced to raise awareness in the U.S. and abroad, on issues surrounding the new base construction in Okinawa.
VFP-ROCK is currently raising funds for their trip to Washington. If you are interested in making a donation, contact Makishi at 090-3796-5404.
(English translation by T&CT and Monica Shingaki)
平和を求める元軍人の会―琉球・沖縄(VFP―ROCK)のダグラス・ラミス会長らは25日、沖縄県庁記者クラブで会見し、米西部ワシントン州で来月開かれるVFP第34回年次総会にメンバーが参加し、名護市辺野古の新基地建設を止めるために新たな決議を提起する考えを示した。

 ラミス会長は米国防予算の大枠を決める国防権限法から「辺野古が唯一」とする条文が削られ、再調査することが盛り込まれたと指摘。新基地建設を撤回させるため、建設予定地でのサンゴ礁の破壊や活断層、軟弱地盤の存在などを米側が直接調査するよう文書で求める考えを示した。

 年次総会にはVFP―ROCKから真喜志好一さん、緒方修さん、当真嗣清さんが出席する。

 米オレゴン州在住で県系2世の高校生、与那嶺海椰(かいや)さんも参加し、新基地建設問題を米国など世界に発信するために制作した映像ドキュメンタリー「我した島ぬ宝(私たちの島の宝)」を上映する。

 同会は訪米に向けてカンパを呼び掛けている。問い合わせは真喜志さん(電話)090(3796)5404。