Compiled and translated by Sung-Hee Choi, activist against the U.S. naval base on Jeju.
Fwd: [Oct. 14][Busan] "US troops Go back home!" Cry in the party venue for the US navy (from No Naval Base on Jeju)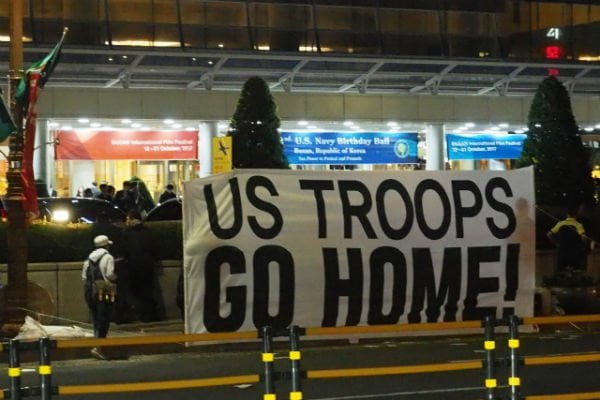 The Busan Haeundae grand hotel is where movie directors and actors/actress used to stay together whenever there is the Busan international film festival (Currently there is Busan intl. film festival, too). The United States Forces of Korea made a party in the 2nd floor of the hotel, in celebration of 60 year anniversary of creation of the the United States Naval Forces Korea. And there were people's protest to them, "U.S. Troops, Go back home." The media says there are people's 24 hour protest in front of the headquarter of the US Naval Forces Korea in protest ti Trump and US Submarine Michigan which entered Busan on Oct., 13.
– 주한미해군 창설 기념행사에 참가한 미군장성들 사색이 되다
▲ 주한미해군 창설 기념행사가 열린 해운대 그랜드호텔에서 14일 저녁 핵항모 한반도 전개를 반대하는 시위가 벌어졌다. [사진 함형재 담쟁이기자]
"미치광이 트럼프의 졸개들아! 남의 땅에서 전쟁을 벌여놓고 너희는 술판을 벌이느냐!"
정장으로 한껏 멋을 낸 미군과 파티복을 입은 여자가 팔짱을 끼고 들어오다 혼비백산한다.
"Yankee! GO HOME!" 대학생들이 참으로 오랜만에 들어보는 구호를 외치며 차를 타고 들어오는 미군 장성에게 항의한다.
경찰은 미군을 통과시켜주느라 이리 뛰고 저리 뛴다. 이 때문에 정문 앞은 아수라장이 된다. 겨우 파티장 입구에 도착한 미군 장성의 얼굴은 백짓장처럼 굳어있다.
▲ 주한미해군 창설 기념행사가 열린 14일 저녁 핵항모 한반도 전개를 반대하는 시위가 벌어졌다. [사진 함형재 담쟁이기자]
지난 14일 저녁 부산 해운대에 있는 그랜드호텔 앞에서 벌어진 장면이다. 주한미군은 이 날 이곳에서 주한미해군 창설 기념 파티를 열었다. 미해군사령부를 슬그머니 부산으로 옮겨온 이후 부산에서 두 번째 열리는 행사였다.
"한반도에서 전쟁을 벌이겠다며 부산 앞바다에 핵잠수함을 끌어들여 놓고 자기들은 파티를 한다는데 그냥 두고 볼 수 없었다"며 부산민중연대를 비롯한 부산지역 시민사회 단체들이 규탄집회를 열었다.
집회에 참석한 사람들은 미군이 나타날 때마다 격렬한 분노와 증오심을 타나냈다. "이들의 뻔뻔스런 얼굴을 직접 보니 도저히 참을 수가 없어요" 차량이 들어올 때마다 피켓을 들고 달려나가던 대학생 강동호(23)씨는 집회가 끝난 뒤에도 한참동안 분노를 삭이지 못했다.
전날인 13일 오전에는 부산 백운포 기지에 미국의 핵잠수함 '미시건'호가 입항했다. 북한을 위협하겠다며 동원한 이른바 '전략자산'의 하나다.
주한미해군사령부가 주최한 이 행사에는 미해군 고위 장성들과 핵잠수함 미시건호를 타고 온 병사들을 비롯한 주한미군 병사들이 참석했으며 부산지역 기관장등 250여명이 초대되었다.
미군은 잔뜩 전쟁위기를 고조시켜놓고 자기들끼리는 그랜드호텔 2층 전체를 오후6시부터 밤12시까지 예약을 해놓고 파티와 연회를 열었다.
그러나 그들을 맞이한 것은 파티장의 흥청거리는 분위기가 아니라 한국 국민들이 그들에게 보내는 증오와 혐오였으며, 주한미군 창설이래 이런 자리에서 처음으로 맛보는 당혹감과 모욕이었다.
핵잠수함 미시건호가 정박해있는 백운포 주한미군 사령부기지 앞에서는 며칠째 24시간 내내 한시도 쉬지 않고 트럼프를 규탄하고 핵잠수함의 철수를 요구하는 구호가 울려퍼지고 있다.
전위봉 담쟁이기자 minplusnews@gmail.com
<저작권자 © 현장언론 민플러스 무단전재 및 재배포금지>
http://m.minplus.or.kr/news/articleView.html?idxno=3819
Also see:
Oct. 16] [Seoul] Activists in Seoul protest to arms salesmen who are having a sumptuous party in a hotel just before the arms show called ADEX
"War starts here, Let's stop it here #stopADEX
stopadex.org"