http://portside.org/2015-05-07/israel-will-now-be-ruled-most-extreme-right-wing-government-its-history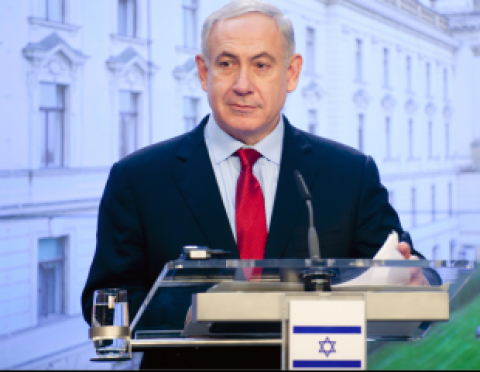 [Justice Minister] Ayalet Shaked has explicitly called [3] for genocide targeting the Palestinians. She believes the "entire Palestinian people is the enemy" and that Israel must destroy its "elderly and its women, its cities and its villages, its property and its infrastructure." Bennett says [4] that a Palestinian state is "just not going to happen. A Palestinian state would be a disaster for the next 200 years."
Here are the major players in this new extremist ruling coalition.
By Zaid Jilani
May 7, 2015
AlterNet [1]
Although Israel's elections took place back in March, the various parties have been at each other's throats over actually cobbling together a coalition that could run the country. Wednesday night, Netanyahu was finally able to put together enough coalition partners to meet the threshold to form a government.
The result is an Israeli government that is perhaps the most extreme in Israel's history. While Netanyahu's right-wing Likud party retains control of the Prime Minister's office, various parties even further to the right grabbed other key positions, guaranteeing that the country at least continues if not escalates its rejectionism with the Palestinians and the Iranian nuclear deal.
Here are some of the major players:
* Prime Minister Benjamin Netanyahu: Netanyahu has driven US-Israel relations to their lowest point in a generation, and defeated his centrist opponents with a last minute racist warning that Arab voters were turning out to the polls in "droves." His political party Likud explicitly opposes a Palestinian state [2], and most of its candidates in this election ran on rejecting the two-state solution.
* Justice Minister Ayalet Shaked: In a coup for the rising far-right Jewish Home party, its leader Naftali Bennett was able to compel Netanyahu to grant control of the Justice Ministry to Ayalet Shaked. Shaked has explicitly called [3] for genocide targeting the Palestinians. She believes the "entire Palestinian people is the enemy" and that Israel must destroy its "elderly and its women, its cities and its villages, its property and its infrastructure." Bennett says [4] that a Palestinian state is "just not going to happen. A Palestinian state would be a disaster for the next 200 years."
* Defense Minister Moshe Yaalon: It looks as if Yaalon, from Netanyahu's Likud Party, will retain control of the Defense Ministry. Yaalon spoke [5] at a conference in Jerusalem this week where he warned that in a future Lebanon war "we are going to hurt Lebanese civilians to include kids of the family. We went through a very long deep discussion…we did it then, we did it in [the] Gaza Strip, we are going to do it in any round of hostilities in the future."
* Foreign Minister Unfilled: Because Israel's Foreign Minister resigned and took his party out of the governing coalition, this effectively will leave the country without a separate foreign minister. The New York Times suggests [6] that "Netanyahu himself will double as foreign minister for now," while others believe [7] Netanyahu may be holding the position open to possibly bring in someone from the opposition such as the Zionist Union's Isaac Herzog.
* Education Minister Naftali Bennett: The rising leader of Jewish Home will control the Education Ministry. Bennett has been known [8] for his racist and dehumanizing rhetoric against both Palestinians in the Occupied Territories and Palestinian citizens of Israel. The party's education platform discards with concepts such as human rights and democracy. Rather, it says [9] its "most urgent task is to create a Jewish-Zionist educational unit to operate in the State of Israel's public school system. . HaBayit HaYehudi will spearhead a nationalist plan to promote Jewish and Zionist identity among all students from grade 1 through grade 12."
"The far right-wing government that has just been announced in Israel will continue to intensify current policies that erode democracy, repress the rights of Palestinians, and make a mockery of international law. This is not the time for polite criticism," said Rebecca Vilkomerson, the director of Jewish Voice for Peace. "It is more clear than ever that only international pressure can reverse Israel's course. We re-double our commitment to all forms of non-violent pressure on Israel, including Boycott, Divestment, and Sanctions (BDS), as well as through the UN and international courts."
There is little doubt among the peace movement both here and in Israel and Palestine that what is being formed is an extreme government that will continue the country's international rejectionism. What remains to be seen is if Israel's European and American allies will admit that reality and behave accordingly. There are some signs that there may be some shifts in the United States, at least. In an interview with Buzzfeed [10], an anonymous State Department official said "it looks like we will have a regular diplomatic headache on our heads. Relations are not going to warm up anytime soon between Jerusalem and Washington."
[Zaid Jilani is an AlterNet staff writer. Follow @zaidjilani on Twitter [11].]

Herzog: Netanyahu Should Return Mandate to the President
Labor Party leader denies that he will join coalition, says 'I advise Netanyahu to fill all the seats that, according to the rumors, are waiting for me.'
Haaretz breaking news
May 7, 2015
Haaretz [12]
Opposition leader Isaac Herzog said on Thursday night that Prime Minister Benjamin Herzog should return his mandate to create the next government [13] and allow the president to confer it on someone else.
It would be the right thing to do "after the liquidation sale he held in order to put together his government of national failure," the Labor Party leader said in an interview with Channel Two TV.
Herzog stated that he would not join the government, calling it "bad and dangerous for Israel."
"I advise Netanyahu and his partners to fill all the seats that, according to the rumors, are waiting for me," Herzog added.
On Wednesday, Herzog denied a Channel Two report that he had been holding serious negotiations with Netanyahu about Labor's joining the coalition and had turned down an offer to be foreign minister.
– See more at: http://portside.org/print/2015-05-07/israel-will-now-be-ruled-most-extreme-right-wing-government-its-history#sthash.aKS00Z2B.dpuf
Links:
[1] http://www.alternet.org/world/israel-will-now-be-ruled-most-extreme-right-wing-government-its-history
[2] http://www.alternet.org/world/fact-netanyahus-political-party-explicitly-opposes-two-state-solution
[3] http://mondoweiss.net/2015/05/netanyahu-palestinians-government
[4] http://www.theguardian.com/world/2013/jan/07/naftali-bennett-interview-jewish-home
[5] http://electronicintifada.net/blogs/asa-winstanley/israeli-defense-minister-promises-kill-more-civilians-and-threatens-nuke-iran
[6] http://www.nytimes.com/2015/05/07/world/middleeast/netanyahu-israel-coalition-government.html
[7] https://twitter.com/mandeljonah/status/596178497581682690
[8] http://972mag.com/arab-leftist-high-schoolers-walk-out-on-naftali-bennetts-speech/102447/
[9] http://www.al-monitor.com/pulse/originals/2015/05/israel-education-minister-bennett-shaked-religious-zionism.html
[10] http://www.buzzfeed.com/sheerafrenkel/new-right-wing-israeli-government-expected-to-complicate-pal#.rlYw82KYN
[11] https://twitter.com/zaidjilani
[12] http://www.haaretz.com/news/israel/1.655486
[13] http://www.haaretz.com/news/israel/1.655322