f2014/07/02 6:49 に Fumi Hoshino が投稿 [ 2015/07/20 13:45 に更新しました ]
日本語はこちらです:戦争でだまされませんか? 70年経ってもホオカムリを見逃し続けますか?
July 9, 2014, video added on June 2015
Fumi Hoshino: 70 jaar later… from ernst de groot on Vimeo.
Are you not going to be deceived about a war, if the leader of your country promote it convincingly?

Several witnesses of history, who were deceived about the war

Several deep troubles after people were deceived about a war.

The Headscarves has been overlooked in Japan even 70 years after the war

How can we avoid to be deceived?
1、Are you not going to be deceived about a war, if the leader of your country promote it convincingly?
This is the question I would like to ask to anyone in the world, especially Japanese, because they are right now in the middle of discussion if the Shinzo Abe's cabinet may lift the ban on military intervention even if Japan are not under attack, for the first time after their aggression and capitulation of the WW2. I want them to think not only about Japan's benefit, but also about how they can explain to neighboring Asia and the rest of the world as an offspring of old Japan, which once caused enormous damages and scars to Asia.
My answer now is that I wouldn't be deceived and I would do my best to avoid others to be deceived to support a war because I studied so much about wars in the last 10 years. But before that I could be easily deceived because I knew too little.
Many Japanese don't know so much about their own war, or they knew only a limited part of it, as I used to. They are even not aware that so many Japanese felt deceived when they lost the war. This is to warn them by sharing stories about a few witnesses of the war including my father.
2、Several witnesses of history, who were deceived about the war

This picture was taken around 1938 in a classroom of a junior high school in Chiba Japan, 70 km east of Tokyo. A student standing in the back low on the right end was my father. Please pay attention to what were hanged on the wall behind them.
The paper of the left side says; "comparisons of Japanese and American marines", and the one in the middle; "a list of new battleships in Japan, U.S. and Great Britain." The map on the right covers from Japan, to East Asia and Australia. When this picture was taken in 1938, Japan had colonized Korean peninsula 28 years earlier, invaded to Manchuria 7 years earlier, and in the year before they invaded further into China and conquered Nanking already. You can see a clear influence of the ongoing war even in this classroom of a junior high school. I feel terrible if I imagine what they were discussing with the map on the right. Just 4 years later Japan conquered the most of these area. They might have discussed at school about such a dreadful scenario as a bright future of their Japan a few years before it really happened.
Red areas were under the control of Japanese

empire

in 1942
Soon after my father entered a senior high school/pre-university in Kyoto. He was excited and enjoyed maybe too much of a student life there. He soon got ill, tuberculosis, and had to go back to his home in Chiba. He was so unhappy at the time, but this saved his life as he realized later. One year later he got better and went back to Kyoto, but the school was empty because all his classmates were already called up to the army. He also took the health examination of the army, but the result was bad due to his illness. He was not sent to the war front but to a factory in Japan. Decades later he wrote a text in a book for his junior high school reunion, looking back this war period.
I felt ashamed for not being able to go to the battle fields (like all of my friends). I went through a pathetic but also refreshing state of mind where I was making efforts to get better knowing that manly honorable death would be waiting after the recovery.
A deceased student (Kamikaze) pilot wrote a diary and it was published with a title "At the end of where clouds flows". I remembered this author well. He was a classmate when I went to Kyoto for the first time in my life. Our seats were close and we started talking each other also because both of us came from areas around Tokyo. I didn't have to die because I was ill. But when the war was over, what came to my mind first was " I meet this day by failing to die."
When I read about Kamikaze where thousands of young lives were sacrificed in suicide missions, I felt crazy but also distant because it was a long time ago and I didn't know anyone involved. But that has changed when I learned that my father's close classmate were one of them. My father would have also sacrificed his life if he was not ill. It is not a distant story in far history any more. It was about my own father. He was also supporting the war together with millions of other Japanese at that time. And I know very well that he was neither stupid or crazy.
My mother told me after my father passed away 5 years ago that he didn't like cherry blossoms in spring because they reminded him his deceased old classmates. He loved nature very much, especially the landscape covered with snow and ones with young fresh green in springs. When my brother and I were still little, he allowed us from time to time to skip school and the whole family went to mountains. We learned about beauties of mountains, streams, waterfalls and snow, and we still have many good memories. When he and my mother came to Europe he requested to go to the Alps and he really enjoyed watching the north face of the Eiger. I was surprised to learn about my father's feeling about cherry blossoms, and to realize that he also had a scar of the war. Another old good friend of my father, with whom he went basic school and junior high school together, wrote the next poem. He must have shared the similar feeling about the flowers with my father, since I heard that he was in the Household troops to protect the emperor during the war.
Learn beauty by watching flowers,
Understand joy by observing flowers.
Understand how close the end of my life is by watching flowers fall.
Wish to stay alive on earth as long as possible.
Although my father supported the war, he realized soon after the Japan's defeat that something was not right and fair and he became angry.
He felt deceived.
I read most of the major magazines during the war. Writers of these articles p

atronizingly

promoted the war and

patriotism

. After the capitulation I expected that they would take responsible actions like

honorable Japanese Bushi's (traditional samurai

warriors

) would do, but nobody

satisfied

my expectation except a few.




Instead they changed completely as if nothing was ever happened. In my opinion they should not, at least,

escape under Japanese Headscarves. They may cancel some points they made during the war or correct others, but s

hould they have explained why they changed in an understandable way?



After this

experience I began to wonder, when I see someone talking p

atronizingly, if he would change his statement if the time or the situation changes, if he will be willing to take

responsibility

about his present comments, of how deep he has ever really thought about it before he talks. But I also began hating myself thinking like that.
Many people must wonder about the
Japanese Headscarf
. I wasn't familiar with it either. It is an old Japanese custom as you see in the Ukiyoe painting above. They covered their head with it either to avoid to be burnt by sun, or when a thief disguises his identity. My father meant the latter. It might be easier for you to understand his critique, if you think of any corrupt politicians in your country or what the Japanese government, bureaucrats, TEPCO, nuclear specialist, and media did after the Fukushima meltdowns.
About the same time, in August 1946, precisely one year after the capitulation, an well-known film director Itami Mansaku wrote an essay, "Those responsible for the war",
about the people who claimed to be deceived
;
Many people say they were deceived during the last war. No one has yet stepped up and said he deceived us. Civilians believe that they were deceived by the military and bureaucracy, but those inside the military and bureaucracy will all point to their superiors and say they were deceived by them. I guarantee that those superiors will also point to their superiors. . . .




A war cannot be started only by the deceivers. Both the deceivers and the deceived people are necessary to start a war and to maintain it. So the responsibility of a war should be laid to the both, maybe not equally to both. . . .




The crime of those who were deceived was not only the fact that they were deceived, but also that they helped the entire nation's cultural apathy and loss of self-awareness, self-reflections, and responsibility; the people lost their capacity to criticize, ability to think by themselves, and convictions, entrusting their whole selves to a blind obedience so completely that they were deceived just like that. . . . People who would say that

they were deceived will probably be deceived over and over again.



Shigeaki Kinjo, an 85-year-ols Okinawan, gives lectures to share his personal experience during the battle of Okinawa in the spring of 1945. He and his brother killed their own family members in a cave as instructed by Japanese soldiers. When they were looking for a way to kill themselves, they saw that the Japanese soldiers didn't commit suicide. He realized that Japanese soldiers had "a double standard – one rule for the civilians and another for the troops themselves – and then he felt a strong sense of betrayal."

All the remarks by my father, Itami, and Kinjo are about the war of almost 70 years ago, but aren't these warnings still relevant? What happened to those with Japanese Headscarf after that? I have a feeling that political leaders at the present discussion on collective defense right are still wearing it now…
3、Several deep troubles after people were deceived about a war.
Deep trouble 1; When you realized that you were deceived, it is too late; irreparable damages have been done already.
When the picture with my father was taken in 1938, no Japanese realized about deception. At the beginning the war they saw only success and celebrations. You see on the left the front page of a major newspaper, Mainichi, in 1937 reporting: "Banzai! (Bravo) Imperial Army's big success to conquer Nanking", the former capital of China.
Many parades followed all over Japan to celebrate the victory as you see in the next picture. (My aunt, father's sister, was told at school to attend one of these. So not all the people were celebrating on their own wishes.)
It was 12 years later when the war criminal tribunals began in 1948 that Japanese people learned about atrocity against Chinese people by Japanese army in Nanking. Many were shocked but it was already a historical fact.
But Japanese were not the only people who celebrated the victory of the war without knowing its brutality, for example atom bombs.
Back to Japan. Also about the issue of Comfort women or sex slave, many Japanese learned in 1990's, 50 years later, when some Japanese researchers reported and Korean and other ex-victims came forward to testify. The next is a moving documentary of such a victim,
Jan Ruff-O'Herne, a Dutch lady, who used to live in

Indonesia

, the former Dutch Indies, when Japan invaded there, and who were sent to a concentration camp and then to a

brothel, "Comfort Station"

.
More than 20,000,000 lives were lost in Asia during the war, which the
Japanese military started, but later millions of other Japanese followed and joined. This is clearly irrevocable and unjustifiable loss. This is not the only irrevocable loss; phisical and psycological scars of the war are still remaining decades after the war; never-ending protest on Comfort Women/ sex slaves by South Korea, China, and the rest of the world. My father also carried such a scar, too: remembering his deceased classmates every time he saw cherry blossoms.
Deep trouble 2; Deceived won't be innocent while the deceiver will always find a way to get away with their responsibility.
Once someone is deceived, he/she would support the war in many ways; to deceive others, to join the killing at battlefields, to join abusing other people, to sacrifice himself like my father's classmates. He/she may say later that they were deceived. But it is not an alibi or a proof of innocence but a useless excuse.
On the other hand the deceivers rarely are hold accountable for what they've done for the war. We've seen that not only after that wars, but also after disasters like Fukushima meltdowns. It is very frustrating but going after the deceivers is not a realistic solution to prevent such a disaster, although we should to keep trying it. They have always the authority on their side, the position to manipulate the crucial information, and are smart and cunning enough to get away. Unfortunately there are not many countries in the whole world, where democracy is well developed enough to hold the deceivers of a war accountable. It is a dream for a country like Japan, where the justice has almost never admitted the guilt of the authority.
Insanity: doing the same thing over and over again and expecting different results. A. Einstein
There is a difference between the Japanese before the war and Japanese now. The Japanese after the war could give an excuse that they didn't know. But now after the war and Fukushima, it won't be credible any more for Japanese to say the same excuse for the third time.
Deep trouble 3; Any one in the world can be deceived.
If Japanese were deceived more than once, does it mean that they are stupid or crazy? Should they be ashamed about themselvs, and is it wise not to talk about it? These are all non sense because any one in the world can be deceived and has been.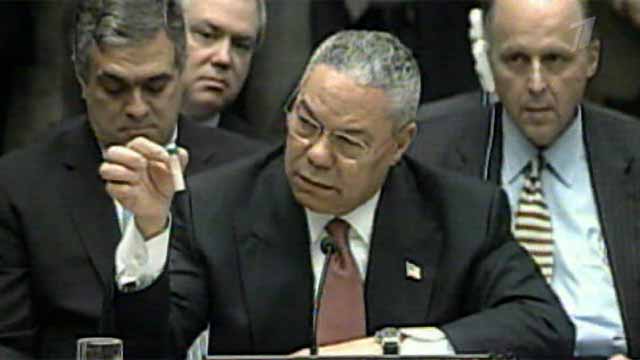 You still remember the presentaion by the former US Secretary of State
, Colin Luther Powell, at the UN council just before the resolution to attack Iraq. He conviced the whole world that Iraq posessed weapons of mass destruction and therfore the rest of the world should attack Iraq to eliminate them. (I read a Japanese diet member, Sei-ichiro Murakami, saying that Powell himself was deceide by CIA.) In a hall where he held a press conference after that speech, Picasso's Guerunica was hanged on a wall. That painting illustrated the civilians casualties of the Nazi's bombing at the village of Guernica in Spain and it symbolized the sprits of the main purpose of the UN;
no more war.
But the painting was covered during that press conference, where a war was justified again with lies and deception. This lie became a scandal only later, but even then nobody was counted for responsibilities, not him, no one in the any allied government or army.
It must be fair to say that there was always deception at every war. Oliver Stone's documentary last year,
Untold History of the United States
, revealed also that US government has kept on deceiving from dropping A-bombs in Hiroshima and Nagasaki until now.
Then the only practical solutions left for peace-lovng citizens are to understand the difficulty to avoid being deceived about a war, to think of a way against it, and to speak up and share that idea with others.
4、The Headscarves has been o

verlooked

in Japan even 70 years after the war
All the arguments on Japan's collective defense right, both pros and cons, starts with the article 9 of the peace constitution forbidding the use of force, or the Japanese victims during the war. But nobody hardly mention on Japanese aggression except the voices from China or South Korea or other Asian countries. This lack is a fundamental and structural problem especially in Japan in my opinion.
If Japan is to lift a ban on military intervention as Abe intends, it will be the first time since Japan's capitulation in 1945. Then it is logical that all the following three aspects should be carefully considered;
Before Japanese capitulation in 1945 (Japan had a right to start a war like others still do.)
After 1945 as a result of the first aspect (Japan abandoned all means of force as the consequence of their previous aggression, but later interpreted that they may protect themselves in case they were under attack.)
Present situation (Do they really need or deserve the right to fight again?)
All the pros talk only about the 3rd aspect, the present growing danger of China. The cons talk about the 2nd aspect, Japanese tradition of peace after the war, and about a part of the 1st aspect, Japanese victims, but hardly about Japan's own aggression. Abe explains that Japan should have the collectives rights of defense because all other "Normal" countries has it. It sounds as if Japan is a poor victims to be not normal. But he never talks why Japan became "not normal" in the first place.
My father wrote,
"
People, who talked
p
atronizingly during the war,
are still hiding behind Headscarves."

even now 70 years after the war.
That is why they don't talk about the aggression done by our own forefathers.They should still first take off
the
Headscarves
, and confront with the aggression of their own country. Then they should evaluate what they did on the way to the war; which decisions were wrong or to be modified, and what they should have done instead. Only after such a clear evaluation about that war they can make reasonable arguments on what to do now, which would be much more understandable not only to Japanese public, but also to the former victims of Japanese aggression and the rest of the world.
If you don't feel familiar with 70-years-old Headscarf about the war, you can remember the aftermath of the nuclear meltdowns in Fukushima. There were many people, who promoted nuclear energy in Japan for decades; bureaucrats, politicians, people of the electricity industry, specialists, and media. How many of them have ever admitted what went wrong, regretted what they promoted, and suggested how to avoid the next disaster in a reasonable way? Almost none. The most of them are still "hiding behind the Headscarves." There are a few exceptional people, who once studied nuclear engineering, but later turned himself to the opposition before the Fukushima. Their stories are understandable and acceptable but rare.
My version of the Japan's history after taking off the Headscarves would be like this:
After the debut in the competitive world in the end of 19 century, Japan made efforts to make their country prosperous and strong by following the Western method at that time, imperialism. But they focused only to their interest and paid too little attention to the interests and human rights of other East Asian people. They became one of the most dangerous and aggressive country in the world, and caused tremendous damages in the region. U.S. and other allies suffered with Japan's cruelty but managed to win against it. After the war the U.S. occupied force intended to destroy the dangerous fangs in Japan to eliminate the fear for the future of the world. For that reason they made the peace constitution and forbad Japan to use military forces ever again. Japanese people welcomed it because they were tired of the war and sufferings, although they were not yet aware of the aggression of thier army. When they learned about it later, to respect article 9 of the constitution became the way for conscientious Japanese to express remorse and regret about their aggression during the war. They became pacifists and started developing a new culture to respect peace.
In this sense these Japanese people have already began taking off the Headscarves. For them Abe's proposal to allow Japan again to engage in a war is not acceptable. I don't have enough understanding to describe the post-war period of Japanese government, but I see little signs of taking off the Headscarves except Murayama- and Kono statements. They hardly confront with the aggression of their forefathers, and they seem to maintain the deceptive structure where they manipulate only the convenient and comfortable information only for themselves.
It has become even worse when Abe became the prime minister and he doesn't even hide his personal egoistic nationalistic view that Japan has never done anything wrong in history. He is notorious to be one of historical revisionist. He keeps on trying to bend common views agreed by historians from many countries and to obscure the Japan's guilt; "There is no proof that so-called Comfort Women were coerced by the Japanese army." or "It is not yet agreed by all the historians that Japan invaded Asia" (as if he still believes the old propaganda that Japan was the liberator to free the colonized Asia by the West.) He is clearly one of those who keeps the Headscarf on.
Abe's view of the history is so narrow minded that only the interest of Japan is respected but not the ones for others. Prof. Akira Iriye said in
a interview
; "A history that you cannot share with others cannot be called history." According to this definition what Abe calls his history is not even a real history at all.
Some critique even says that Abe has started preparing for the next war from the

beginning

of his term. He passed the secrecy law so that he can prepare the war without informing the people once he specifies the crucial information as National Secrets. Many people are also afraid that what really happened at the meltdown in Fukushima will never known to public by this trick. He has already lifted a ban to export weapons for the first time after the end of the war. This enables him to use this card for diplomacy; he can contribute to a military conflict/tension by controlling what weapons to be provided to whom when. Now he want to achieve the right of collective self-defense so that he can send Self Defense Force of Japan to anywhere in the world even without any attacks to Japan itself. Once this plan is legalized, if Japan goes back to a war is not a question any more, but only when and which war. To make things worse for peace of the world this Japanese new leader keeps
the 70-years-old Headscarf
on.
He has already began deceiving people for the next war.
He justifies the necessity to lift a ban for military intervention
, in order

to protect lives of Japanese people

living outside of Japan, especially the lives of women and children. During his short speech just after his cabinet decision on collective self defence

on July 1st, he used this phrase,
"to protect lives of Japanese people", as many as five times. See a cartoon of a mother and two small children below next to him with a not peaceful at all but aggressive look.
"To protect lives of Japanese people"
might sound reasonable in other circumstances, but the question is what he say is believable.
When have Japanese government or army EVER really "
protected lives of Japanese people" ???
Never as far as I can recall. During the battles on Okinawa or other islands in the
Pacific
at the end of WW2, defeated and withdrawn Japanese soldiers intruded to caves where

civilians were hiding. Soldiers were afraid that crying baby would reveal the hiding place to American soldiers outside, then they forced mothers to choose either to keep the baby quiet, even by killing it, or to go out of the cave in confront with American attacks. The Japanese soldiers told
civilians never to surrender to U.S. army but to kill themselves with grenades. When the Soviets started to invade Manchuria, the army escaped leaving civilians behind and even without informing them about the Soviet attack. After thousands of civilians suffered and died after A-bombs in Hiroshima and Nagasaki, the government passed a bill to support the victims as late as12 years after the bombs. Many victims of
damped toxic waste
by a big chemical plant in Minamata were acknowledged and started to receive financial support after 13 years of long legal battle. Now more than 130.000

evacuees

in Fukushima have no clear view on their future life but only fear about their health in the coming years. Japanese government or army has never "
protect lives of Japanese people." in history. Then how can anyone believe if Abe suddenly promise to
"to protect lives of Japanese people" in order to persue his own agenda?
We should not overestimate the opinion polls where the majority of Japanese is opposed to Abe's plan to legitimize the collective defense rights. It is always a minority, who wants a war. A war breaks out before this minority becames a majority. There is no war, which was started as the result of an referendum, where the majority of people supports the war. Abe's cabinet recent decision might create a momentum to increase his supporters. That could lead to a point of no return to the next irrevocable loss.
Therefore the coming period is therefore very crucial for the future of Japan and the peace of the region. That is why I want more Japanese to be aware about the deception about a war and about
the 70-years-old Headscarf.
5、How can we avoid to be deceived about a war?
In order to deceive people towards a war they don't need to lie but but only to choose convenient truth for a certain interest or purposes, and hide other more crucial facts. We need to imagine the hidden information behind what we see. But it is quite difficult.
I believe that the peace formula of Joahan Galtung, who is regaraded as a father of peace study, is quite useful in this case, again. I shared this earlier in this blog, too.
He proposed here to do 4 things; to promote
Equity
and
Empathy
and to solve
Trauma
and
Conflict
. If something is against any of these four points, it would be against peace and possibly leading to a war. In such cases we should be very careful not to be deceived.
For example let's check Abe's policies according to this formula.
His motto is "the comeback of beautiful Japan", and he pursues only the interest of his favorite part of Japan. Those who benefitted from his economic policies, Abenomics, are the riches; those who own stocks, and big companies including TEPCO. He doesn't care if other people suffers, such as thousands of evacuees in Fukushima, and if the democracy and peace tradition are sacrificed. Internationally he care only the victory of Japan, but not the costs of others. These are all against

Equity

and Empathy on Galtung's formula.
His egoistic view of the war history and visit to Yasukuni shrine are also opposite of solving

Trauma

in the past. For the present Conflict of Japan against South korea and China, all he does is to escalate it.
Even without a develish dictator or mean conspiracy a war could break out as a result of such escalation. This escalation is similar to a game of
Jenga
. At every turn you take a risk to let the everything to collapse. Once it happens you have already passed the point of no return.
All the policies by Abe's cabinet are against peace
formula of
Galtung. We need to be very careful now as long as he pursues his agenda as the PM.
He is not the only leader in the world, who does against peace. President Obama drastically increased the amount of
drone
attacks in Pakistan, Yemen, and other countries. It is very convenient for him because it doesn't risk the life of American soldiers in the battle therefore he doesn't risk his popularity in US. But they cause many civilian causalities in these countries and that is off course against the interest of these countries. That is against the
Equity
and
Empathy
on Galtung's formula, and therefore against the peace of the world. We can say the same for Putin, who annexed Cremia, and for Netanyahu, who kept building Jewish settelements is Palestine, because they also pursue one side of interest.
What are the examples of peace building according to the Galtung's formula?
While Abe brings Japan away from peace, I find impressive examples of peace building by the ex-victims of Japan, South Korea, which was colonized for 35 years, and Okinawa, which has been suffering for 135 years from the annexation of Ryukyu kingdom in 1879, then the battle of Okinawa in 1945, and 3/4 of all the US base in Japan on their small islands still now.
South Korea took an initiative to build bridges to China and to Japan
. Although Abe assumed to win support of Okinawans to build a new American base at Henoko by agitating fear against China and anti-China feeling,
Okinawans stay firm in their peaceful course; to pursue friendship
. They have an old beautiful expression, "Build beams to thousands of countries
万国津梁
," which was casted in an old iron bell made at the end of 15th century. The Ryukyu kingdam was situated between big powers, China and Japan, and they were wise enough to know that building bridges to other countries was the only sustainable way for peace and co-existance. It was 4 centuries before Japan started their unpeaceful aggression and annexed Okinawa. This is the oldest model of bridge-building for me, who call myself a bridge builder for peace.
A recent example of "Empathy: to suffer the suffering of the others" is the movie, "12 years slave", which won the oscar last year.
When 13 English colonies united and became independent as USA in 1775, it was a tiny country, situated on the east coast in North America. They kept on expanding by taking over the neighboring areas for more than a hundred years, and it has grown into a big country as we know today as the USA.
Territorial growth of the USA You can see the details at the link.
The slavery was the motor for agricultural develoment on the invaded territories. In this process human rights of the slaves were abused in an enoumous scale, such as forced labour and sex slavery. This movie is based on a real tragedy in the middle of 19th century. I found it significant and impressive that this movie was
made from the view point of the victim, and Oscar committee appreciated by giving it the Oscar. It demonstrates that
American society
sometimes promotes the
"
Empathy
: to suffer the suffering of the others" as Galtung defined.
This map of USA expansion reminds me of the map of Japan empire in 1942. It also caused countless victims of forced labor and sex-slaves. Now I understand why Mrs. Clinton pointed out a few years ago that they should stop calling as Comfort Women but just as sex-slaves.
Area under the control of Japan empire in 1942
The negative consequence of that war was not only the millions of lost lives in the region but also damaged relationship between Japan and victimized countries; China, both Koreas, and other countries, which might be comparable with the friction between the races in USA, caused by the history of slavery. I realized this recently by looking at these two maps.
While the slavery in US lasted 250 years, the Japanese occupation lasted shorter but long enough to leave deep scars; 66 years in Okinawa until 1945, 50 years in Taiwan, 35 years in South and North Korea, 14 years in Manchuria/China, and 4 years in the rest of East Asia. While the tension in the US is between different races because white people abused black people and Indians, the tension in East Asia is within the similar Asian races (except Dutch and other Europeans in the former Dutch Indies and Singapore.) I find it dreadful to realize that people in Korean peninsula and Taiwan were deceived by Japanese to support the war for Japan and to kill and abuse other Asian people at the forced labour camps, comfort stations, etc.. I once became speechless when a Korean old man told me that he studied at a Japanese school in Korea during the war, and he proudly dreamed to become a pilot of Japanese zero fighter as a child, and that he regreted that when he realized after the war. I wonder how many Japanese have thought of such an idea.
I've never seen a Japanese war movie, which illustrates the war from the viewpoint of the victims of the Japanese aggression, like the movie "12 years a slave". It was always about how Japanese people sufferd from the war. Last year the movies about Zero fighters and about the huge battleship Yamato were released, and I read somewhere that Abe liked them. But those are still only about Japan and not about "

Empathy

; to suffer the suffering of the others."
It took 160 years for the US society from the time of the tragedy of the movie until last year, when the movie "12 years a slave" was made and appreciated. If it takes the same amount of time for Japan to do the same, at the end of 21st century we will see a Japanese war movie seen from the viewpoint of the victims of Japanese aggression in the first half of the 20th century. I strongly hope that we can see it earlier that. By that time the Asia around Japan will become more peaceful than how it is now.
The first step to achieve this goal could be a campaign to take off the 70-years-old Headscarves in my opinion. More Japanese can take that off as some have already started, confront with the history of their own aggression, and listen to the voices of the victims. We can find a way and a place to talk about it honestly, and we can expand that group to share that with more Japanese. We should demand politicians and media to do the same. We must be able to create a situation where politicians should do it otherwise they don't get enough votes, and where media should do it otherwise we don't look or buy that media. I hope I can contribute to this campaign through my blog.
Again Okinawa has a good example for this. Candidates of Liberal Democratic Party in Okinawa were positive about US bases there in accordance with the LDP government in Tokyo, until a non-LDP candidate, who opposed to the US bases, won the governors election in 1990. Then LDP candidates realized that they also needed to oppose the US bases in order to get voted although it would conflict with the direction of LDP in Tokyo. It was a victory of Okinawans because they changed the politicians to go to the direction they wanted. Gavan McCormack, an emeritus professor of Australian National University, referred to such examples and said that Okinawa was a unique place in Japan where democracy was working. We should learn from them.
If we can succeed this, it will mean a major progress forward of Japanese democracy and humanity. That would improve not only for the national security of Japan, but also the Japan's relationship with China, South Korea, and the rest of Asia, getting rid of nuclear plants, the situation of Fukushima evacuees, the issue of the poor, social service, etc. etc.
I dedicate this essay to my late father and his classmates. Fumi-nori Hoshino