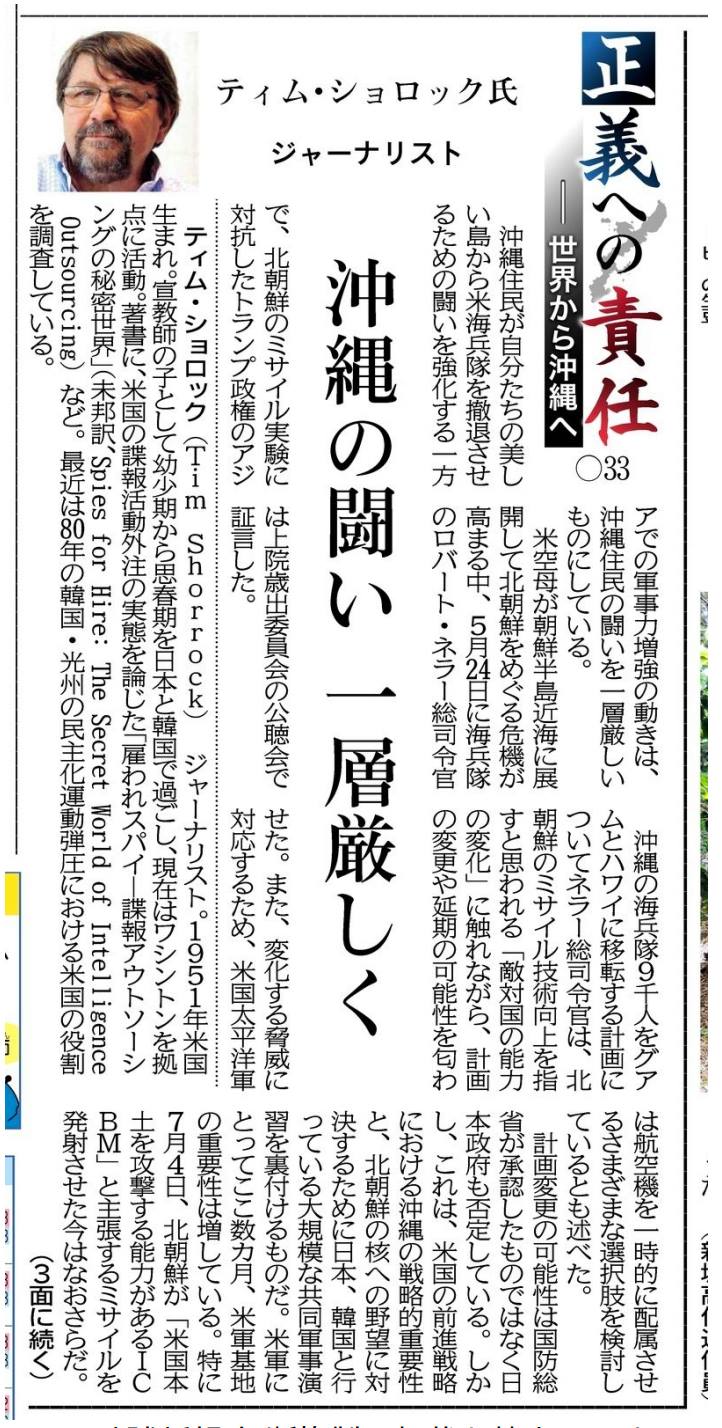 By Tim Shorrock. Published in Japanese by the Ryuku Shimpo, July 18, 2017– As the people of Okinawa expand their struggle to remove the US Marines from their beautiful island, the Trump administration's military buildup in Asia in response to North Korea's missile tests is making that task even harder.
In April, at the height of the latest crisis with the North, US Marine Corps Commandant Gen. Robert Neller appeared before the US Congress. In light of the recent developments, which included the dispatch of a US aircraft carrier group to Korean waters, he said the US-Japan plan to relocate 9,000 US Marines in Okinawa to Guam and Hawaii "could be subject to change and be delayed."
"The situation, strategically and operationally" has "changed the dynamic," Gen. Neller said, according to Kyodo, pointing to North Korea's growing missile capabilities. He said that the US Pacific Command is looking at various options for basing new US aircraft in the area, including in Okinawa, "because of the evolving threat." Neller's proposal has not been endorsed by the Pentagon and was denied by the Japanese government.
But it underscores the strategic importance of Okinawa to the US forward-basing strategy in Asia and the massive military exercises it holds with Japan and South Korea to confront North Korea's nuclear ambitions. To the US military, the importance of US bases has increased in recent months, particularly in the wake of North Korea's July 4 launch of what it claimed to be an ICBM capable of hitting the continental United States.
The latest sign of Okinawa's strategic value came in late June, when US Marine F-35B stealth fighter jets landed at Kadena Air Force base, "marking the first arrival of the aircraft to Okinawa," according to the US Pacific Command. Already these flights are adding to the noise problems suffered by Okinawa, with the roar of the jets angering local residents.
Meanwhile, in South Korea, where anti-US base sentiment is growing due to the Pentagon's deployment of THAAD anti-missile batteries, activists have been alarmed by the rapid expansion of a naval missile defense system embraced by the US, Japan and South Korea. On Jeju Island, US Navy Aegis-equipped destroyers recently made their first visits to a South Korean naval base that has been the site of fierce local protests for nearly 10 years. For years, South Korea denied that US vessels would use the base, but that calculus changed with the recent tensions.
"Our concern, which we raised from the beginning, is that this Jeju naval base will be used as a part of the US pivot to Asia," Gayoon Baek, the international coordinator of the People's Solidarity for Participatory Democracy (PSPD), an influential peace and justice organization based in Seoul, told me during a recent interview in Seoul. "Now, that is becoming real."
But as the Trump administration and Japan's Prime Minister Shinzo Abe seek to ratchet up the military pressure on North Korea, South Korea's newly elected president, Moon Jae-in, is hoping to reduce tensions by reaching out to the government of Kim Jong Un in the hopes of starting a dialogue that could lead to peace talks and a resolution of the 15-year dispute between the North and the United States.
Moon, a former human rights lawyer who was arrested twice for participating in demonstrations against South Korean military dictators, has modeled his initiative on the "Sunshine Policies" adopted by South Korea's last two progressive presidents, Kim Dae Jung and Roh Moo Hyun. In May, I was one of only two foreign journalists to interview Mr. Moon during his campaign. He told me, quite emphatically, that his conciliatory approach towards Pyongyang would benefit the United States and the entire Asia region.
"To solve the North Korea nuclear problem is in both our common interests," he said. "If South Korea takes an active role, that would be helpful to the United States and would relieve the US burden." According to a recent poll, nearly 80 percent of South Koreans support the renewal of inter-Korea dialogue with North Korea, which lies just 30 kilometers north of the capital in Seoul.
Moon's efforts got a major boost during his summit meetings last week with President Trump. While making major concessions on THAAD, which he said his government would likely approve once it completed an environmental review, Moon won US support for his efforts to move forward on using economic, cultural and sports exchanges as a way to build trust and restart negotiations with Pyongyang.
Specifically, Moon and Trump agreed to open a dialogue with North Korea "under the right circumstances," according to their joint statement, while Trump confirmed South Korea's "leading role" in creating conditions for peaceful reunification. "Securing President Trump's support for South Korea's leading role" in unification efforts and the "resumption of inter-Korean dialogue was a very important achievement," Moon told a gathering of overseas Koreans just before he left Washington.
Moon continued his peace initiative this week in Germany, where he is attending meetings of the G-20 industrial countries. In a speech in Berlin two days after North Korea's ICBM test, he declared that he would be willing to meet Kim Jong Un under the right conditions, and pledged to pursue a peace treaty with North Korea. "We should make a peace treaty joined by all relevant parties at the end of the Korean War to settle a lasting peace on the peninsula," he said.
By embracing Moon's peace offensive, the citizens of Okinawa could help alleviate the pressure that is leading to the expansion of US military forces in both Korea and Japan. At the same time, peace groups in South Korea and the United States could contribute towards building peace in Asia by supporting the just demands of the Okinawan people for a reduction in US military dominance of their land. That may be the only way forward in this increasingly tense situation in Northeast Asia.
Tim Shorrock is a Washington-based journalist who spent his youth in Japan and South Korea. He recently spent two months in Gwangju, South Korea, where he was researching the US role in the suppression of the Gwangju Democratic Uprising of 1980 and reporting for The Nation. He covers US-Korean relations for the Korea Center for Investigative Reporting.
---
Please support our work.
Donations/寄付

Mailing List