"Culture Is Peace"
Peace Not War Japan (PNWJ) is a Tokyo-based volunteer collective, working to raise awareness of issues relating to peace, war and non-violent solutions to conflict.
Started in 2004 and associated with the UK organisation Peace Not War, PNWJ brings together conscious musicians, artists and other Japanese groups or organisations that work for peace and social justice, and is intended to benefit the grassroots peace movement with networks and donations.
New volunteers are always welcomed (see here for more information).
'Peace Not War Japan' – CD now available
This unique collection is the first compilation of contemporary Japanese peace music and gives Japan its own soundtrack for a place in the new global peace movement. Released in August 2006 on Dynastic Records, the music spans many genres and features well-known acts such as Soul Flower Union, Dry & Heavy, Captain Funk and Ryukyu Underground alongside independent musicians from across the country.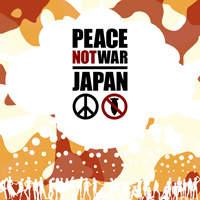 The CD is available online from Amazon.co.jp, TowerRecords.co.jp, and HMV.co.jp, plus many other participating stores (Tower Records, HMV, Tsutaya, Wave, etc – see News page for full list). Sample clips from the collection can be heard here.
Described by Metropolis magazine as 'a diverse introduction to the contemporary Japanese music scene that simultaneously satisfies your ears and conscience', the CD also has a charity dimension. Proceeds raised from CD sales will go to Japanese peace groups, with an emphasis on the grassroots and/or underfunded, therefore helping the new Japanese peace movement to grow.
'…rather than being a rare example (in Japan) of a charity album, this is actually something even more radical – a protest album.' (Japan Times)
Feed your head and be part of a new wave – 'Peace Not War Japan'.