From the Mainichi Shimbun and Japan Times
海上工事に政府が着手 移設反対派に怒りと焦燥感が交錯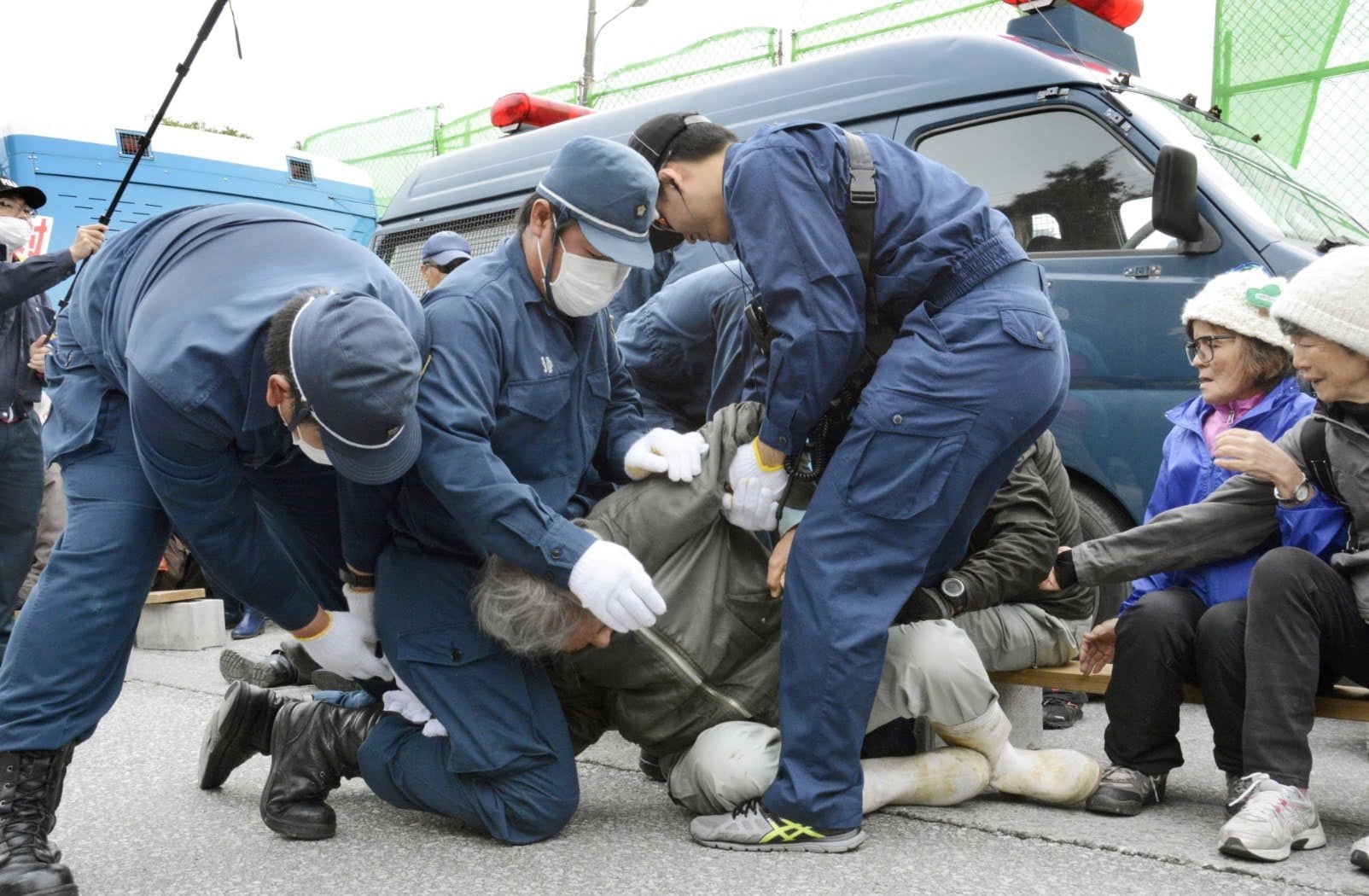 沖縄の美しい海を埋め立てて巨大な米軍基地を造るための工事がまた一歩、前へと進んだ。米軍普天間飛行場(沖縄県宜野湾市)の名護市辺野古への県内移設に向け、政府が6日、初めて海上工事に着手。辺野古の米軍キャンプ・シュワブのゲート前では、移設反対派が作業に向かう車両を阻止し、排除する機動隊と衝突した。埋め立てへのカウントダウンが始まり、反対派には怒りと焦燥感が交錯した。【浅野翔太郎】
 まだ真っ暗な午前6時前、前夜の雨もあり肌寒いキャンプ・シュワブゲート前に続々と移設反対派が集結。「これ以上工事を進めないためには、作業員を中に入れないという抵抗をせざるを得ない」。約150人が「辺野古新基地NO」「辺野古埋立阻止」などと書かれたプラカードを掲げるなどして抗議の声をあげた。
 同県南風原町の稲福次義さん(63)は「市民の意思をきょう示さなければ、政府の意向を沖縄が黙認したことになる。民意を無視しようとも、県民の意思は揺るがない」と語気を強めた。
 午前8時15分、作業員が乗った乗用車が到着。作業現場に向かうためキャンプ内へ進入しようとしたが、反対派は入り口前に座り込んだ。すると沖縄県警の機動隊が隊列を組んで阻みながら、隣接する出口の方から工事車両を通した。反対派からは「きちんと手順を踏め」と怒号が飛んだ。
 その後も続々と大型トラックやクレーン付き車両などが到着。「帰れ、帰れ」。反対派はゲート前で腕を組んで壁を作り声を張り上げた。一進一退のせめぎ合いの末、午前10時半ごろ、足止めとなっていた車両がキャンプの方へ。機動隊は約80人を次々に排除。腕をつかまれた高齢の男性は「県警は県民とアメリカとどっちが大事なんだ」と叫んだ。
 ゲート前には、辺野古への移設阻止を訴えるため翁長雄志(おなが・たけし)知事と訪米し帰国したばかりの稲嶺進・名護市長も駆けつけた。「アメリカでも、沖縄の置かれている状況はよく聞いてもらえたと思っている。全く無視し続けるのは日本政府だ。訪米中に防衛大臣が『辺野古が唯一の解決策』との見解を示すなど、恥も外聞もない」と怒りをあらわにしていた。
NAHA, OKINAWA PREF. – Government workers on Monday resumed offshore work off the coast of Nago, Okinawa Prefecture, to build the replacement facility for U.S. Marine Corps Air Station Futenma as protesters gathered to halt the project. Some 100 protesters started gathering at dawn in front of the gate of Camp Schwab next to a site for reclamation work to block construction vehicles from entering. At around 9:30 a.m., riot police tried to remove protesters sitting in front of the gate with their arms crossed. The protesters shouted, "Stop violence!" and "Don't hurt the Okinawans!" "I saw vessels coming on TV, and I couldn't just sit around doing nothing," said a 70-year-old man from Urasoe. "Okinawa can't stay like a colony of Japan and the U.S." The work began after U.S. Defense Secretary James Mattis and Prime Minister Shinzo Abe agreed last week to go ahead with the base relocation.
The work is part of the central government's plan to relocate U.S. Marine Corps Air Station Futenma from densely populated Ginowan to the Henoko coastal area in Nago. Both are on the main island of Okinawa. Okinawa Gov. Takeshi Onaga returned from Washington on Sunday evening after relaying local opposition to the plan to the administration of President Donald Trump. He is likely to try thwarting the project refusing to give permission for moving coral reefs in the planned reclamation area and by taking other steps. "Based on relevant law, the government will pay as much consideration as possible to the natural environment and the livelihoods of the local people as we move forward with work to relocate (the base to) Henoko," Chief Cabinet Secretary Yoshide Suga said.
Tokyo has argued that the base relocation accord with Washington is "the only solution" for eliminating the dangers posed by the Futenma base without undermining the deterrence provided by the Japan-U.S. security alliance. The Okinawa Prefectural Government, however, is seeking to boot [the] base out of the prefecture altogether. The offshore work will place more than 200 concrete blocks to act as a screen to prevent debris and sediment generated from coastal revetment work from spreading. The central government will also conduct an undersea survey. Ahead of the construction work, a group of vessels carrying concrete blocks arrived near the site Sunday. The ships will also be used to carry out the survey. After starting relocation work in Henoko in October 2015, the central government suspended it in March last year following an agreement with Okinawa under court mediation as part of efforts to break the impasse on the issue. But Tokyo resumed land construction work on Dec. 27 at the U.S. Marines' Camp Schwab neighboring the relocation site after the Supreme Court ruled against Okinawa's opposition in a case brought by the central government in July.